Introduction: Reasons to Love Hotels with Gym & Jacuzzi
You've been working long hours lately and desperately need a break. What better way to decompress than to make travel arrangements to hotels in Osoyoos BC with gym & jacuzzi? With these comforts, you can unwind and renew your bond with your loved ones. When you arrive, enter the jacuzzi to relax your aching muscles and let your concerns drift away. If you want to release endorphins and get a little exercise, you can head to the gym. After a full day of seeing the neighbourhood, another bath in the jacuzzi is the perfect nightcap before retiring to your comfy bed for a restorative night's sleep.
Reasons to Choose Hotels with Gyms and Jacuzzi
Nothing beats a relaxing getaway at a hotel with amenities to pamper yourself. If you're looking for the perfect mini-vacation, here are reasons hotels with gym & jacuzzi should be at the top of your list:
1. Convenience and Accessibility
Having hotels with gym & jacuzzi means convenience and accessibility. You don't have to go far to get in your workout or soak your cares away.

- No need to pack extra workout clothes or gear. Everything you need is right on site. Just wear your swimsuit or exercise outfit and head to the facilities.
- Don't waste time commuting to an off-site gym or spa. Roll out of bed, and you're there in minutes. More time for sleeping in and leisure!
- Staying in one place means you can go at your own pace. Feeling ambitious? Hit the treadmill. Prefer to relax? The hot tub's open 24/7. Do both if you want!
- Bad weather won't derail your plans. Rain or shine, the amenities are indoors and available whenever you're ready to use them.
- It's easy to squeeze in a quick workout or dip in the jacuzzi between activities. On a tight schedule? Multi-tasking is a breeze.
- Everything's adapted for visitors. The equipment, lockers, and facilities are designed to accommodate people on vacation or short-term stays. No membership or long-term commitment is required.
Hotel with gym & jacuzzi, your getaway agenda can be as active or laid back as you like. And when it's all right at your fingertips, staying in shape and de-stressing has never been so simple. Now enjoy your accessible oasis!
2. Health and Wellness Benefits

Relieve Stress
A hotel with gym & jacuzzi is perfect for relieving the stresses of everyday life, and working out releases endorphins that improve your mood and mental well-being. Spending time in the jacuzzi soothes your muscles and washes away tension. The warm, massaging water is comforting and calming. By the time you get out, your worries will feel far away.
Recharge Your Body
Exercise provides physical benefits that carry over into the rest of your trip. A workout boosts energy, so you feel motivated to explore the area. It also helps you sleep better at night so you wake up recharged for the next day's adventures. The jacuzzi's hot water increases circulation, delivering oxygen to your cells. Your whole body will feel refreshed and rejuvenated.
Bond with Loved Ones
Sharing wellness experiences with family and friends strengthens your connections. Work out together in the gym or do couples massages. Relax in the jacuzzi and catch up on conversation without distractions. 

Trying new activities together, like yoga or water aerobics, gives you shared memories to laugh about for years. A hotel focused on health and recreation is the perfect place for quality time with your favourite people.

- Exercise releases feel-good hormones that reduce anxiety and boost happiness.
- The hot water in a jacuzzi helps loosen tight muscles and relieve pressure points.
- Recreation and leisure with loved ones release oxytocin, the "love hormone" that enhances closeness.
- A balanced lifestyle, including fitness and recovery, increases well-being and satisfaction.
Hotels with gym & jacuzzi facilities support your holistic health. Work your body, rest your mind, and nurture your relationships—you'll return home feeling like a new person.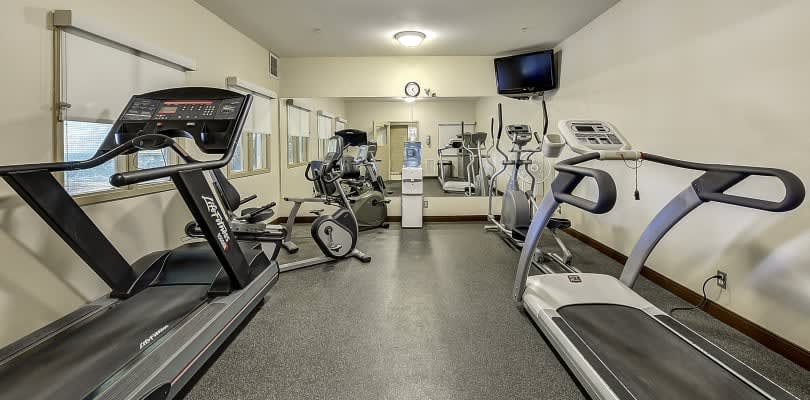 3. Relaxation and Stress Relief

After a long day of activities, nothing beats unwinding in a hotel with amenities designed for rest and rejuvenation. A hotel with jacuzzi in room provides the perfect escape for your mind and body.

Exercise in the gym releases endorphins, which elevate your mood and have analgesic properties. Pent-up tension and energy can be removed with light activity, such as a treadmill or exercise bike. Of course, lifting weights or engaging in a high-intensity interval training session will leave you feeling contentedly exhausted.

Sliding into a bubbling jacuzzi, your aches and cares will melt away. The hot, hydrotherapeutic massage of the jets soothes sore muscles and calms the mind. As the warm water relaxes your body, your breathing slows, your heart rate decreases, and your blood pressure lowers. Negative ions in the water may also help reduce depression and boost energy levels.

Many hotels also offer additional amenities for relaxation like:

Saunas: Heating up in a sauna causes you to sweat, releasing toxins and improving circulation.
Steam rooms: Moist heat from steam rooms opens up pores, eases congestion, and leaves you blissful.
Massage: Treat yourself to an in-room massage for ultimate repose and renewal.
Yoga or tai chi: Some hotels provide space and classes for these peaceful practices.
After taking advantage of the hotel's leisure facilities, you'll sleep like a baby and wake up refreshed and recharged. A workout, jacuzzi, sauna or massage may become essential to your next getaway! A hotel focused on health and wellness will turn your vacation into a true escape where you can restore both body and mind.
4. You'll Never Want to Leave

Once you experience the amenities and convenience of a hotel with a gym and jacuzzi, you may never want to stay elsewhere again.

- Work out at your leisure in the onsite fitness centre. No need to worry about fitting in a workout before or after travelling. Head to the gym whenever the mood strikes for cardio, weight training or yoga.
- A jacuzzi is perfect for soothing your muscles after a workout, sport or day of activities. There's nothing quite like bubbling away your cares in a hot tub, especially if it's indoors or open late. Some hotels even have jacuzzis in select rooms for relaxation and rejuvenation.
- Many hotels also have additional recreational facilities like an indoor swimming pool, sauna, tennis or basketball courts. There's no reason to leave the property when you have everything you need onsite.
- The convenience of 24-hour room service means you can dine in your room anytime. And with many options for on-demand streaming entertainment, your room becomes your retreat.
- Centrally located hotels close to attractions, shopping, dining and nightlife. But with so many amenities under one roof, you may enjoy the hotel's facilities.
Everything you could want or need in one place - that's the beauty of hotels with gyms, jacuzzis and more. No wonder so many guests end up extending their stay. Once you've experienced this level of comfort and convenience, you'll be ruined for any ordinary hotel stay.
Conclusion

Nothing beats relaxing in a bubbling hot tub with a glass of wine under a starry sky after a long day of activity, whether golf Osoyoos course, wine tasting, or just taking in the scenery. And keeping up with your workout routine is a breeze with a well-equipped fitness centre just an elevator ride away.  For the ultimate relaxing yet rejuvenating getaway, book a hotel that checks the boxes for fitness and leisure – your mind and body will thank you! A perfect combination of luxury, convenience and wellness, hotels with gyms and jacuzzis were made for memorable vacations. 

If you're looking for the best place from where you can plan, then visit Best Western Plus. Start planning your next escape now! 

Frequently Asked Questions

Why do people love hotels with a gym and jacuzzi?

People love hotels with a gym and jacuzzi because they offer opportunities for both relaxation and exercise during their stay.

What are the benefits of having a gym in a hotel?

Having a gym in a hotel allows guests to maintain their fitness routines while travelling, promoting physical well-being and relieving stress.

Why are jacuzzis popular in hotels?

Jacuzzis are popular in hotels because they provide a luxurious and relaxing experience. They offer therapeutic benefits, such as soothing muscles and promoting relaxation.

Do hotels with a gym and jacuzzi attract more guests?

Yes, hotels with a gym and jacuzzi tend to attract more guests because they cater to various preferences. They appeal to fitness enthusiasts and those seeking relaxation, thus increasing the hotel's appeal.

Are hotels with a gym and jacuzzi considered more desirable?

Yes, hotels with a gym and jacuzzi are often considered more desirable because they provide additional amenities that enhance the overall guest experience. These facilities contribute to a sense of luxury and convenience, making the hotel more appealing to potential guests.