Introduction: Hotel with Onsite Dining

Looking for a hassle-free getaway where you don't have to worry about finding places to eat? Then choose an accommodation Osoyoos has to offer with restaurants on site. You'll never have to venture far for delicious cuisine when staying at one of these all-inclusive properties. Forget battling traffic and long wait times at crowded off-site eateries. 

Whether you're travelling for business, pleasure or a little of both, an on-site restaurant is a total game changer. Keep reading to discover the top 7 reasons why selecting a hotel with dining on the premises will make your next trip a breeze. Your taste buds and stomach will thank you.
Top 7 Reasons To Select A Hotel With Onsite Dining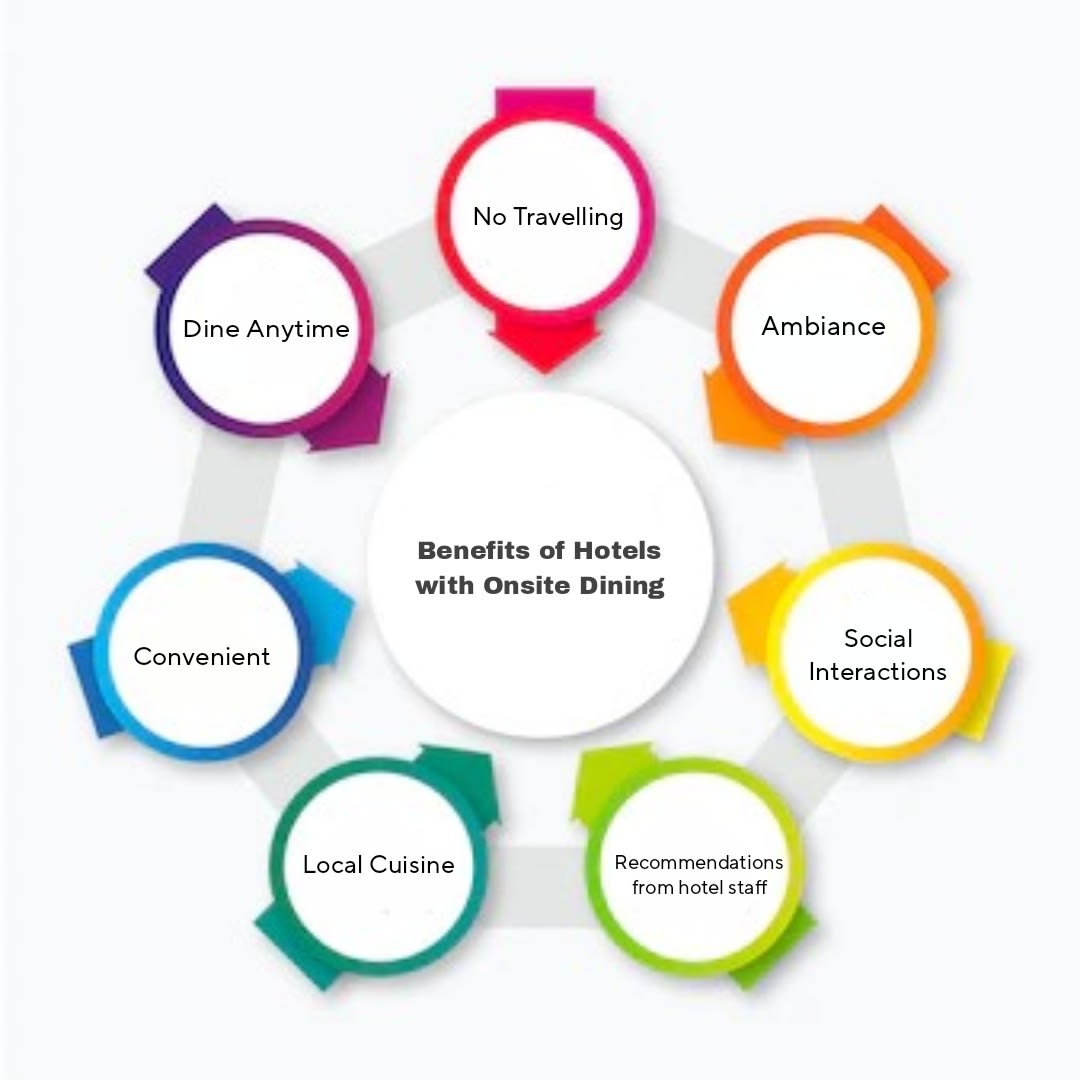 1. Convenience Onsite Hotel Dining
When you're travelling, the last thing you want to worry about is where to eat. That's why choosing a hotel with onsite dining options is so convenient.

- No searching for restaurants. After a long day of meetings, golfing, or wine touring, you can simply head to the hotel restaurant. No GPS is needed!
- Enjoy the ambience. Many hotels design their restaurants and bars to complement the overall vibe and experience they want to create for guests. The decor and music will set just the right mood for a relaxing evening.
- Meet dietary needs. Hotel restaurants aim to please and will typically offer menus with options to suit most tastes and dietary requirements, like gluten-free, vegan or kid-friendly fare.
- Charge meals to your room. When you dine at the hotel, you can often charge meals directly to your room for an easy, hassle-free payment experience.
For convenience, ambience, and cuisine that suits your tastes and schedule, choose a hotel with dining options onsite. Your stomach will thank you for it! After a satisfying meal in comfortable surroundings, you'll be able to fully relax and enjoy your stay.
2. Local Cuisine and Experience
Nothing beats enjoying delicious food and drinks without ever leaving your hotel. Choosing a hotel with onsite dining options, especially ones featuring local cuisine, allows you to fully immerse yourself in the culture and experience of your destination.

Hotels with multiple dining venues give you choices for every meal and mood. Feeling casual? Grab a burger by the pool. Want romance? A candlelit dinner in an upscale restaurant. Craving variety? A buffet with cuisine from around the world.

Travelling with family or in a group? Multiple restaurants in one location make it easy to find options for everyone. And for special occasions or celebrations, private dining rooms and customized menus can be arranged.

No matter what brings you to a new destination, selecting a hotel with dining on the premises allows you to enjoy familiar comforts along with exciting new experiences. Make the most of your trip by choosing a place where you can savor both. After all, exploring local cuisine is one of the best parts of travel!
3. A Worthwhile Hotel Experience
One of the best parts of any vacation is the food. Choosing a hotel with on-site dining options means you can experience the local cuisine without even leaving the property.

- Sample regional specialties and local wines without worrying about transportation or reservations. Many hotels source ingredients from nearby purveyors and farms to give guests an authentic taste of the place.
- Enjoy the convenience of room service or grab a quick bite in the lobby café when you're on a tight schedule.
- Take advantage of special amenities like chef's tasting menus, mixology classes or wine-pairing dinners. Some hotels even offer interactive cooking classes, where you can learn skills and recipes to bring home.
- Avoid the hassle of trying to find a suitable restaurant, especially if you're travelling with kids or special diets to accommodate. Onsite dining ensures there are options for everyone in your group.
- Get recommendations from the hotel staff on which venues and dishes to try based on your tastes. They know the properties and menus inside and out.
You'll return home not just with memories of the destinations you visited but also of the delightful meals you enjoyed along the way. For a truly memorable getaway, choose a hotel that offers an exceptional culinary experience.
4. Social Interaction and Ambiance
Staying at a hotel with onsite dining options allows for easy social interaction and a relaxed ambience perfect for groups or families.

The ambience at hotel restaurants is tailored to facilitate socializing. You'll often find:

- Open seating rather than reservations so groups can sit together.
- A casual vibe with lounge areas for mingling over appetizers or cocktails.
- Family-friendly menus and seating for multigenerational trips.
- Views of pools, gardens or golf courses for a resort feel.
Dining with others in an upbeat yet laid-back hotel setting leads to meaningful conversations, new connections, and shared memories that last well beyond your stay. Forge bonds over brunch, celebrate over dinner or just chat over coffee - all without leaving the property.
The convenience and community feel of onsite hotel dining provide an experience that enhances your trip in a way offsite options simply can't match. Whether travelling for business, pleasure or a bit of both, you'll find the social surroundings and ambience create an environment conducive to camaraderie and good times.
5. Safely Get Back to Your Hotel Room
When staying at a hotel with on-site dining options, you don't have to worry about driving to and from restaurants off-property after enjoying some drinks with your meal. You can simply head back to your room on foot after eating without concern for driving under the influence or finding transportation.

Hotels that offer multiple restaurants provide choices for various tastes and dietary needs. Whether you're in the mood for a casual burger, upscale steak, spicy Asian noodles, or a healthy salad, there are options within the same building. Families, sports teams, and tour groups with diverse tastes can all find something to enjoy.

Some hotels offer both casual, communal dining options as well as upscale, private restaurants. You can choose to mingle with other guests over drinks and shared plates or enjoy an intimate, fine dining experience. There's flexibility to socialise or dine privately with your group.
6. Order Whatever you Crave from On-site Hotel Dining
One of the best parts about choosing a hotel with on-site dining is that you can satisfy any craving at practically any hour. Want a burger at 2 am? No problem. Feel like pancakes for dinner? Go for it. When dining is just an elevator ride away, you have the freedom to eat whatever you like whenever the mood strikes.

- Late-night munchies? A hotel restaurant is open.
- Do kids want pizza for breakfast? They can have it.
- Forget to eat lunch because you were golfing or wine tasting all day? A hearty dinner is minutes away.
With round-the-clock room service and multiple restaurants under one roof, you have a world of cuisine at your fingertips. And if you're travelling with family, sports teams or groups, coordinating meals becomes infinitely easier when dining options are on the premises. Satisfy your cravings and delight your taste buds with the convenience of on-site hotel dining. Eat what you want when you want it!
7. Easily Save Leftovers
When staying at a hotel with onsite dining, you'll find it simple to save any leftovers from your meals. Rather than packing up leftovers and trying to keep them fresh in your hotel room's mini fridge, you can ask your server to pack up your leftovers to enjoy later. The kitchen staff will properly seal and store your leftovers, leaving them fresh for you to enjoy again.

Just let your server know you'd like your leftovers packed to go, give them your room number, and they'll handle the rest. Your leftovers will be delivered to your room, ready for you to reheat and enjoy again whenever you'd like. No need to worry about leftovers spoiling or taking up precious mini fridge space. You can enjoy your meal again at your leisure. You don't have to try and find room in your hotel room's small fridge and hope the leftovers don't spoil overnight.

Staying at a hotel with dining onsite provides many benefits, including the simple convenience of safely saving your leftovers. No need to worry about leftovers spoiling or taking up space in your mini fridge. You can enjoy your meal again whenever you choose! The kitchen staff will handle sealing, storing and delivering your leftovers fresh to your room. It's a simple perk that makes your stay that much more enjoyable.
Conclusion
So next time you're booking a hotel for your vacation or business trip, look for one with dining options right on the property. You'll save time commuting to restaurants, relax in a familiar setting, maybe even make some new friends at the bar or cafe. Travelling can be tiring, but eating shouldn't be another chore to add to your list. 

When choosing a hotel with onsite dining, opt for hotels in Osoyoos, British Columbia, as there is a wide range of Osoyoos hotels with pools. Treat yourself to the convenience of staying in, enjoying attentive service from staff who know you by name. You deserve an easy, enjoyable experience from check-in to check-out. And who knows - that little extra luxury might just inspire you to stay an extra night. 

You can always find another excuse to get away, as long as room service is just a quick call away!

FAQS

Why should I choose a hotel with onsite dining? 

Selecting a hotel with onsite dining offers convenience and accessibility, allowing you to enjoy immediate access to meals without the hassle of searching for restaurants. It saves time and effort, providing a seamless dining experience during your stay.


What are the advantages of having an onsite restaurant in a hotel? 

An onsite restaurant ensures quality and variety of food with fresh ingredients and skilled chefs. It provides a pleasant dining experience, including an elegant atmosphere and professional service. Additionally, it caters to diverse dietary needs and preferences, accommodating specialised diets.


Can dining at the onsite restaurant help me socialise with other guests? 

Yes, dining at the onsite restaurant presents opportunities to meet and interact with other hotel guests. You can exchange travel experiences, engage in conversations, and potentially network with fellow visitors. It also allows you to connect with the local community, gaining insights into the destination.


Are there extended operating hours for onsite restaurants in hotels? 

Yes, onsite restaurants in hotels typically operate for breakfast, lunch, and dinner, offering flexibility in dining times. They often provide late-night dining options as well. Additionally, many hotels offer room service or in-room dining for the convenience of guests.


Are there cost-effective options associated with selecting a hotel with onsite dining? 

Yes, many hotels offer inclusive meal packages or discounts for onsite dining, providing cost-effective options for guests. By choosing a hotel with onsite dining, you can take advantage of these deals and enjoy meals at a discounted price.