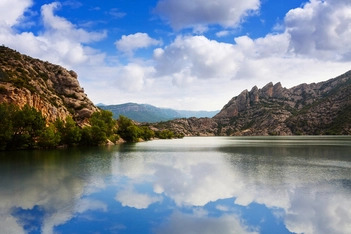 Have you been craving a summer escape where you can soak in the sun without sweltering in the heat? Look no further than the scenic Osoyoos Lake in British Columbia's Okanagan Valley. Nestled between mountains and vineyards, the lake's turquoise waters offer the perfect respite from summer's warmth. Whether you're travelling with family, friends or as part of a sports team, Osoyoos Lake has an array of activities for all. 

From watersports and beach lounging to wine tours and golf, you'll want to stay for more than just a quick dip. Luckily, Osoyoos Lake is surrounded by comfortable hotels, many with pools and jacuzzis in every room for unwinding after a day on the water. Forget the heat and immerse yourself in the cool breezes and natural beauty of Osoyoos Lake. You'll leave refreshed, recharged, and already planning your return.

Enjoy Watersports on Osoyoos Lake

There's no better way to escape the summer heat than by enjoying the calm waters of Osoyoos Lake. With over 200 km of shoreline and beaches galore, the options for watersports and recreation on this massive lake are endless.

You can go boating, sailing, wakeboarding, waterskiing, tubing, and more. Several marinas around the lake offer boat rentals, so you can quickly get out on the water even without your vessel. For thrill-seekers, Osoyoos Lake is also a premier destination for kiteboarding and windsurfing, with consistent winds that pick up in the afternoons during summer.

If you prefer to stay on land, Osoyoos Lake's beaches are perfect for swimming, sunbathing, beachcombing, and building sandcastles with the kids. Some of the best spots are Gyro Beach, Cottonwood Beach, and Legion Beach, which have playgrounds, picnic areas, and beautiful sandy shores.

When you've filled the water, head to one of the many Osoyoos Lake Hotels, hotels or cottages to enjoy a meal with lakefront views or relax. There's no better place to unwind from the summer heat than in a poolside lounger overlooking the sparkling blue waters of Osoyoos Lake. With so many ways to beat the heat here, you'll plan your next visit before leaving!
Also Read: The Benefits of Offering a Hotel Gym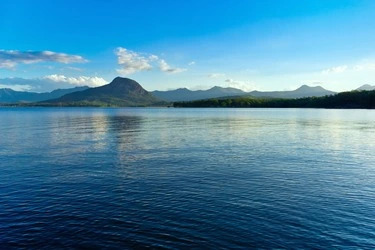 Relax at a Lakefront Osoyoos Hotel

If the summer heat has you seeking refuge, head to one of the many lakefront hotels in Osoyoos. Many Osoyoos hotels feature outdoor pools and hot tubs with gorgeous lake vistas. Just imagine easing into the water, feeling the warmth surrounding you while gazing at the glistening lake. Pure bliss! Some even have spacious sundecks, cabanas and pool bars where you can lounge the day away.

For the ultimate indulgence, book a hotel with an in-room Jacuzzi. There's nothing quite like soaking in a jetted tub with a glass of wine and enjoying the lake views from your private balcony. If you're travelling with kids, look for a family-friendly hotel with waterslides, splash pads or beach access to entertain the little ones.

With scenic lakefront trails and beaches right outside your door, you'll have plenty of options to get out and enjoy the fresh air. Pack a picnic lunch, go boating or stroll hand-in-hand along the shore. As the day winds down, find a patio or terrace at your hotel to sip a cocktail during a stunning Osoyoos Lake sunset. Pure vacation bliss!

Now doesn't a lake getaway sound perfect? With so many excellent Osoyoos hotels, you will find one that lets you make the most of the lake this summer. Start planning your escape today!


Also Read: Benefits of Playing Golf

Play Golf With Views of Osoyoos Lake

One of the best ways to beat the heat in Osoyoos during the summer is to hit the golf course. With scenic views of the lake and a refreshing breeze, you'll forget how hot it is outside. Osoyoos boasts several championship golf courses set against the picturesque backdrop of the Okanagan desert and Osoyoos Lake.

The Sonora Dunes and Nk'Mip Canyon Desert Golf Course are two of the most popular, offering challenging play for golfers of all skill levels. Both courses provide stunning vistas of the lake and valley from nearly every hole. The Nk'Mip course is located right along the lake, so you'll spot people boating and swimming in the distance as you make your way between the manicured fairways and greens.

After you wrap up your round of golf, head to the clubhouse for a cold drink and meal with a view. The Sonora Dunes and Nk'Mip restaurants have large patios where you can unwind, share stories from the course, and gaze out at the shimmering lake below.

If you want to make a golf getaway from your Osoyoos vacation, book a stay at one of the lakefront resorts or hotels offering golf packages. Several properties provide accommodation deals that include a round of golf at one of the championship courses and access to other amenities like pools, spas and beach access. There's no better way to escape the summer heat in Osoyoos than by enjoying a few days of golf, relaxation and lake life.

Conclusion

Finding ways to cool yourself near the Osoyoos Lake shoreline is essential because the average annual sunshine hours are 2,000. Temperatures can reach as high as 40°C. Getting out on the lake is among the most significant ways to do it. Enjoy the cool water by renting a boat, a jet ski, or a paddleboard.

Osoyoos Lake Hotels offers recreational equipment rentals right on-site. If boating isn't your thing, you can swim at one of the many public beaches along the lake, like Cottonwood Beach or Legion Beach. 

When you've had enough sun, head to one of the hotels in Osoyoos with pools, hot tubs or splash pads. Many have Osoyoos hotels with pools and jacuzzis and some even with Hotel with Jacuzzi rooms. After a day out in the heat, a dip in the pool or soak in the hot tub is perfect for cooling down while still enjoying the view.

The Osoyoos area is in the heart of BC wine country, with over a dozen wineries within a 15-minute drive. Or play a round of golf at one of the championship Golf Osoyoos courses with their lush, irrigated fairways and greens.

Osoyoos Lake has everything you need to beat the heat this summer. Get out on the water, lounge by the pool with a cold drink, or duck into the welcoming chill of a local winery. However you choose to chill out, the natural beauty and small-town charm will have you forgetting about the hot temperatures in no time.

Frequently Asked Questions 

How can I enjoy Osoyoos Lake?

You can enjoy Osoyoos Lake by swimming, boating, paddleboarding, and fishing.

Are there any water parks near Osoyoos Lake?

There are water parks and splash pads near the lake for family fun.

What are some ways to escape the heat at Osoyoos Lake?

You can escape the heat by relaxing in shaded areas, using sunscreen, and taking frequent dips in the refreshing lake water.

Can I rent water sports equipment at Osoyoos Lake?

You can easily rent water sports equipment like kayaks and jet skis from local rental shops.

Are there hiking trails around Osoyoos Lake?

There are hiking trails nearby, offering scenic views of the lake and surrounding landscapes.