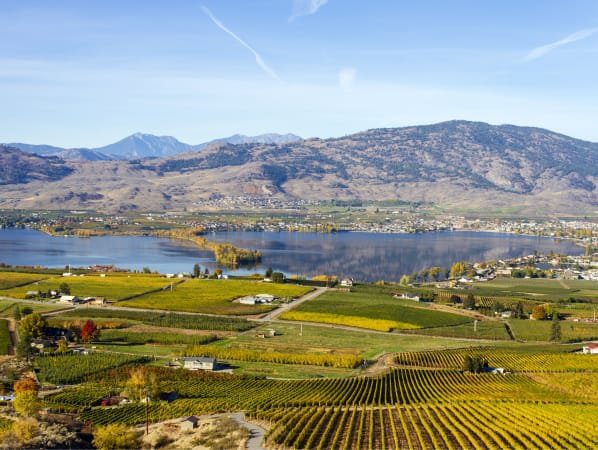 Hello, are you up for a trip to Osoyoos? This year, some exciting new developments are coming to this lakeside community in the Okanagan Valley of British Columbia. Osoyoos boasts activities and services to fit every interest, whether you're planning a family vacation, golf trip with friends, or romantic weekend getaway. 

The best hotels in osoyoos british columbia, golf courses, vineyards, and seasonal events to experience in 2023 will be revealed to you in this article. Get ready to explore what's new in Osoyoos by packing your things, getting in your car, and leaving soon. A memorable summer vacation is in store!
What's New in Osoyoos 2023
Hotels in Osoyoos British Columbia are opening up, providing you with more choices for your subsequent visit.
1. The Sonora Hotel
This stunning beachside resort on the east side of Osoyoos Lake is slated to open in the spring of 2023. It is destined to become a top vacation spot with more than 200 hotels, numerous pools, restaurants, a golf course, and lake activities. 

A serene oasis atmosphere is produced by contemporary architecture and desert landscaping. Prices will probably be on the pricier side, but for a luxury vacation, this would be ideal.
2. The Beach Inn and Campground
Check out the newly remodelled Beach Motel and RV Park for something more reasonably priced with access to the lake. The property has been updated by the new owners, who included features like a swimming pool, playground, and outdoor gathering spaces with barbecues. 

There are alternatives for RVs, tents, and boat moorage, and the rooms and kitchenettes are simple but tidy and comfortable. It's the ideal location for taking in Osoyoos Lake without going over budget.

3. Villas at Osoyoos Desert Estate Winery
The villas at Osoyoos Desert Estate Winery provide a distinctive stay amid vineyards if wine is calling your name. For couples or small groups, six Tuscan-style villas with stone patios and outdoor fires are perfect. You benefit from special winery benefits like events, tours, and tastings. 

You may simply prepare dinner using ingredients from the on-site market, on-site orchards, or local suppliers because each villa has a full kitchen. It doesn't get much better than this for a winery getaway!

You'll have even more reasons to schedule your next trip with all the interesting accommodations Osoyoos has to offer. 
Upcoming Festivals & Events to Attend This Year
In Osoyoos, interesting things always happen, and 2023 is no different. You'll have lots of chances this year to sample regional cuisine, wine, and entertainment.

The 8th Annual Garlic Festival is one occasion you won't want to miss in August. This well-known event features cooking demonstrations, meals from neighbourhood eateries with a garlic theme, live music, and booths offering garlic braids, oils, and spreads. Over the course of a weekend, the smell of garlic will permeate the air, luring you at every turn.

Check out the Osoyoos Desert Wine Festival in late June if you prefer grapes to garlic. In addition to wine tastings, food pairings, and live entertainment, this two-day festival features wines from more than a dozen nearby wineries. It's a wonderful opportunity to try some of the region's distinctive grapes, such as Merlot, Chardonnay, and Pinot Gris.

Visit Easter in April for some fun with the family. Over 10,000 eggs will be hidden during this enormous Easter egg hunt, which will also include Easter bunny appearances, bouncy houses, face painting, and other kid-friendly activities. Remember to bring your basket!

Osoyoos has something for everyone thanks to its breathtaking surroundings, 300 days of sunshine, and lively community. You have even more reasons to visit this little corner of heaven thanks to the great roster of activities for this year. Stay for the memories and experiences you'll treasure for years to come; come for the wine and the surrounding natural beauty.
Recent Golf Course Upgrades and Renovations

Golf Osoyoos has recently improved. To improve your experience, certain local golf courses recently underwent repairs and renovations.
1. Golfing in the desert at NK'Mip Canyon
On the Osoyoos Indian Band reservation, the NK'Mip Canyon Desert Golf Course renovated its irrigation system and reseeded the fairways. The new underground irrigation system results in healthier grass and more effective watering. 

They also re-edged the sand in old traps and installed new sand traps. With these upgrades, the desert course is even more beautiful and difficult, with its dramatic elevation changes, arid surroundings, and expansive views of the valley.
2. The golf course at Sonora Dunes
All 18 greens at Sonora Dunes Golf Course underwent renovations utilizing a new grass variety that is more suited to the hot, dry Okanagan climate. Golfers of all ability levels will be enthralled by the new, greener, quicker greens. 

Additionally, they refurbished the practice putting and chipping green and upgraded the driving range with new mats and balls. The well-liked course is quite reasonably priced and accessible to the general public, and it is situated close to a lot of hotels.
3. Golf and Country Club of Osoyoos
The irrigation system of the Osoyoos Golf and Country Club has undergone significant improvements, and new sprinklers have been installed throughout the course. To improve the playing surface and experience, they rebuilt several tee boxes. 

The clubhouse's inside and exterior were also given makeovers, including new paint, flooring, furniture, and landscaping. These large expenditures demonstrate the club's dedication to giving members and guests access to first-rate facilities and playing environments.

Osoyoos enhances its standing as a top-tier golf destination with these upgrades and modifications to three of the most well-liked golf courses. If you want to enjoy the new and improved golfing in Osoyoos for yourself, make reservations in advance as tee times may fill up more quickly. The perfect golf vacation will be provided by the great weather, breathtaking surroundings, and demanding courses.
Osoyoos's Newest Restaurants and Wineries
Osoyoos are continually changing, with new establishments for dining, drinking, and recreation opening up every season. Here are a few recent updates you should have a look at when you return.
1. Fresh eateries
The Basin Bistro, which offers elegant yet relaxed cuisine with breathtaking lake views, launched in the spring of 2022. They provide homemade pizzas, fresh seafood, and dishes with an Okanagan influence that often feature regional products. It's a wonderful location for enjoying a lovely dinner and the sunset over Osoyoos Lake.

With an open-concept kitchen and beverage bar, Fire and Ice is the newest addition to Spirit Ridge Resort. They offer high-end, gourmet flatbreads, and salads, and share platters with distinctive flavours. Choose a local wine from their large list or one of their unique cocktails to go with your meal.
2. New vineyards
With award-winning red wines from their estate vines planted in 1968, Ancient Vines Winery recently opened its tasting room in downtown Osoyoos. Try some of their Merlot, Malbec, blends of Cabernet, and more. They also have a beautiful patio where you may sip wine while enjoying the sunshine.

A new tasting room for Moon Curser Vineyards has opened on Highway 97, not far from Osoyoos. From uncommon grape varietals, they create flavorful reds and aromatic white wines. You never know what new Okanagan wine you'll fall in love with if you stop by for a sample flight.

With so many fantastic new venues to dine, drink, and have a good time, Osoyoos is solidifying its position as a top wine and cuisine destination. Make sure to leave time in your schedule to check out the town's newest and best additions. The only drawback is that you might have to wait longer to sample them all.

Osoyoos is an interesting location with ongoing construction to improve its appeal as a travel destination. Here are a few of the significant initiatives planned for completion by 2023 and beyond that tourists will undoubtedly enjoy:
3. Marina Growth
The marina in Osoyoos is expanding and improving. More than 200 new boat spaces, additional amenities including boater showers and laundry facilities, and space for recreational vehicles are all being planned. The marina will become one of the largest in the Okanagan thanks to this development, which will also draw more tourists interested in lake activities and watersports.
4. New Trails for Hiking and Biking 
Due to the creation of various new hiking and biking trails, outdoor enthusiasts will have more to explore. To create more than 25 kilometres of new trails in the region, the Town of Osoyoos is collaborating with regional trail organizations. 

Several will provide access to new picturesque locations, while others will connect with existing pathways like the Kettle Valley Rail Trail. All skill levels of hikers and mountain bikers will find possibilities to enjoy on the routes, which are made for them.

Upgrades to the Hotel and Golf Course
Osoyoos hotels with pools have undergone renovations and improvements. The rooms, pools, restaurants, and other amenities at several resorts near the lake are slated for upgrades. The NK'MIP Canyon Desert Golf Course's new clubhouse and pro shop and Osoyoos Golf Club's enhanced irrigation systems are just two examples of the improvements being made to area golf courses. These expenditures will enhance the enjoyment and memorability of trips to and activities in Osoyoos.
Fresh Breweries and Wineries
There are new wineries planned for Osoyoos in South Okanagan, which is known for its wineries. In 2023, at least two new wineries that will host events, tours, and tastings are anticipated to open. There will soon be a brand-new craft brewery, giving beer drinkers another place to try regional ales. There are more reasons to travel to Osoyoos and sample the local cuisine with the addition of more wineries and a brewery.

Osoyoos is quickly improving as a destination thanks to exciting new projects in leisure, lodging, food, and other areas. The year 2023 is looking to be a great one to explore everything the town has to offer. Come for the lake and the weather, but stay for the experiences that are in store—both new and old!
Conclusion

You now have a taste of what will be new in Osoyoos in 2023. You'll want to start organizing your trip as soon as possible because gorgeous new resorts are opening their doors, thrilling events on the calendar, and a variety of ways to see this lovely area of British Columbia. Osoyoos offers both a tranquil respite amidst nature and an action-packed vacation, so there's something for everyone. 

Your heart will be won over by the friendly community and stunning surroundings. You'll soon be daydreaming about your arrival. You'll want to return again and again because of the lake, the vineyards, the golf courses, and the locals. Prepare yourself for an amazing holiday in one of Canada's most picturesque and rapidly expanding places. Okanagan awaits you!

FAQs

1. What is Osoyoos known for?

Osoyoos is renowned for its warm climate, beautiful lakes, and vibrant vineyards.

2. How far is Osoyoos from Vancouver?

Osoyoos is approximately 400 km (about a 5-hour drive) from Vancouver.

3. Are there wineries in Osoyoos?

Yes, Osoyoos boasts several world-class wineries, making it a popular destination for wine enthusiasts.

4. Is Osoyoos Lake suitable for swimming?

Absolutely! Osoyoos Lake is a favourite spot for swimming, boating, and other water activities.

5. When is the best time to visit Osoyoos?

Summer is the peak season, but spring and fall also offer pleasant weather and fewer crowds.