1. Introduction: The Best Time to Visit Osoyoos
Do you want to visit the picturesque lakeside town of Osoyoos in British Columbia's Okanagan Valley? Excellent choice. With stunning scenery, world-class wineries, and outdoor adventures galore, Osoyoos is an idyllic getaway destination any time of year. But when is the absolute best time to visit Osoyoos to take advantage of the warm weather, smaller crowds, and lower hotel rates? Here are some tips to help you plan the perfect Osoyoos getaway during the ideal season for you.
2. Weather in Osoyoos Overview

Do you want to experience the perfect weather in Osoyoos BC, but aren't sure when the best time is with all that varied weather? Here's an overview of what you can expect climate-wise and some tips for planning your trip.

Osoyoos have hot, dry summers and short, mild winters. Summers from June to August see average highs around 82 F, perfect for enjoying the lakeside town's many outdoor activities like boating, swimming, golfing, and wine tours. However, the hot weather also brings risks of wildfires, so be cautious if visiting in July or August.

Spring from March to May and fall from September to October have comfortable temperatures in the 60s and 70s, smaller crowds, and lower hotel rates. The shoulder months of April-May and September-October can be ideal times for an Osoyoos getaway. You'll miss the summer heat and winter chill, plus the spring wildflowers and autumn foliage are stunning!

Winters are cold but short, from December to February, with average highs of just 37 F. While many attractions have limited hours or close for the season, you'll find the lowest hotel rates and smallest crowds. Bundle up for winter walks along the lake or go ice fishing. No matter when you visit, book hotels in advance, especially if travelling in the summer. 

Osoyoos hotels with pools, like the Best Western Plus are great for hot summer days. For cooler months, it offers cozy rooms with fireplaces perfect for snuggling up after a day out and about. With the right planning, any season can be the perfect time to visit Osoyoos. Focus on the activities and experiences that match the weather, and you'll have an amazing trip. Now get planning - your Osoyoos adventure awaits!
3. Best Time To Visit Osoyoos
Springtime in Osoyoos: March and May

Springtime in Osoyoos, from March through May, is one of the best times to visit. The weather starts warming up, the flowers are blooming, and the crowds haven't arrived yet.

By April, the daytime highs reach into the mid-60s Fahrenheit (around 18 C), perfect for enjoying all the outdoor activities Osoyoos has to offer. 

You can go hiking and biking without overheating and hit the golf courses when the rates are lower. The spring shoulder season also means lower hotel rates - you can often find deals 30-50% lower than peak summer prices.

One of the biggest benefits of spring is witnessing Osoyoos' stunning landscape come alive. The orchards blossom, the hills turn green, and wildflowers carpet the valley. It's the perfect time for a wine tour, as you can see the vineyards revive and maybe even spot some wildlife.

If you want to avoid big crowds, spring break in March and the May long weekend is the busiest times. For smaller crowds and the lowest prices, aim for April or early May.

The spring weather in Osoyoos is variable, so pack a mix of clothing for warm and cool days. 

And don't forget your bathing suit - the lake is still chilly but perfect for quick dips! Overall, spring is an ideal time to visit Osoyoos. You get lovely weather, blooming nature, and bargains galore.
Summer Season in Osoyoos: June Through August

Summer in Osoyoos, from June through August, is the most popular time to visit, and for good reason. The average high temperature hovers around 82 F (28 C), perfect for all your favourite summer activities.

Splash in one of the area's lakes, like Osoyoos Lake, the warmest lake in Canada, or rent jet skis, boats or other watercraft.

Tee off at one of several world-class golf courses in the region, like Best Western Plus Golf Course.

Go wine tasting at over a dozen wineries. Many wineries are within walking or cycling distance of downtown Osoyoos.

Dine al fresco at one of the many patios along Main Street and soak in the views of vineyards and mountains.

The summer heat means hotel rates are at their highest during these months, especially for properties with pools, AC and lakefront access. But the trade-off is near-perfect weather and long daylight hours to take advantage of all Osoyoos has to offer. If the heat gets too intense, higher elevations like Anarchist Mountain provide a cooler escape only minutes away.

While summer sees the biggest crowds, the weather and activities make it an ideal time for your first visit to Osoyoos. Come experience the Okanagan's "pocket desert" in its element!
Autumn Season in Osoyoos: September – November

Autumn is one of the best times to visit Osoyoos. The summer crowds have dwindled, the temperatures are mild, and the fall foliage is stunning. September sees the end of the hot summer weather. 

Daytime highs drop to the mid-20s Celsius, perfect for golfing, cycling, and hiking. The lake is still warm enough for swimming and other watersports. As the month progresses, the leaves start to change colour, turning the hillsides into a vibrant sea of red and gold.

October ushers in the heart of the fall season. Average highs are around 15°C, and lows may drop below freezing some nights. Pack a mix of clothing for variable weather. This is an ideal month for wine touring, with the harvest in full swing and many wineries offering special events. You may even spot wild animals like deer or coyotes.

The best place to view the fall colours is from the Osoyoos Desert Center or along the hiking trails in Haynes Point Provincial Park. Book hotels in Osoyoos in British Columbia in advance, and you can often find good deals, especially for rooms with lake views or private patios. Best Western Plus have indoor pools, hot tubs and full-service spas open year-round.

November sees the autumn colours fade, and the temperatures continue to drop. Daytime highs are around 10°C. Some attractions start to close for the season, but wine-tasting rooms remain open, and rates are low.  The resort town has a peaceful vibe, perfect for a relaxing getaway before winter sets in. Bundle up, stroll along the lake, and enjoy the quiet beauty of Osoyoos in the fall.
Winter Season in Osoyoos: December - February

During the winter months, Osoyoos transforms into a winter wonderland. The lakes and vineyards become covered in a blanket of snow, creating a magical scene. This is an ideal time for winter sports enthusiasts to visit.

The average high temperatures in December through February range from 32 to 39 degrees Fahrenheit (0 to 4 degrees Celsius), so be sure to pack warm clothes, coats, hats, gloves and insulated boots. Days are short, with only about 9 hours of daylight, so most activities revolve around the winter season.
Some highlights of visiting Osoyoos in the winter include:

1. Hitting the slopes at Mount Baldy Ski Resort for downhill skiing and snowboarding. They offer over 200 acres of skiable terrain and chairlifts for all skill levels.

2. Cross-country skiing or snowshoeing along the trails at Haynes Point Provincial Park or the Osoyoos Desert Center.

3. Ice skating on the outdoor rink at the Sonora Community Center.

4. Curling up by a fireplace in one of the cosy hotels. Many offer special winter accommodation rates and packages.

5. Sampling award-winning wines from over 20 local wineries on a guided winter wine tour. Several offer special tastings, dinners and events.

6. Stargazing at night - the clear skies and lack of light pollution provide amazing views of the Milky Way and celestial shows like the Northern Lights.

While the winter season means some attractions are closed and the pace slows down, the natural beauty of a snow-covered Osoyoos and the range of winter recreational activities offer a wonderful escape from the hustle and bustle. The smaller crowds also mean more peace to enjoy this winter wonderland.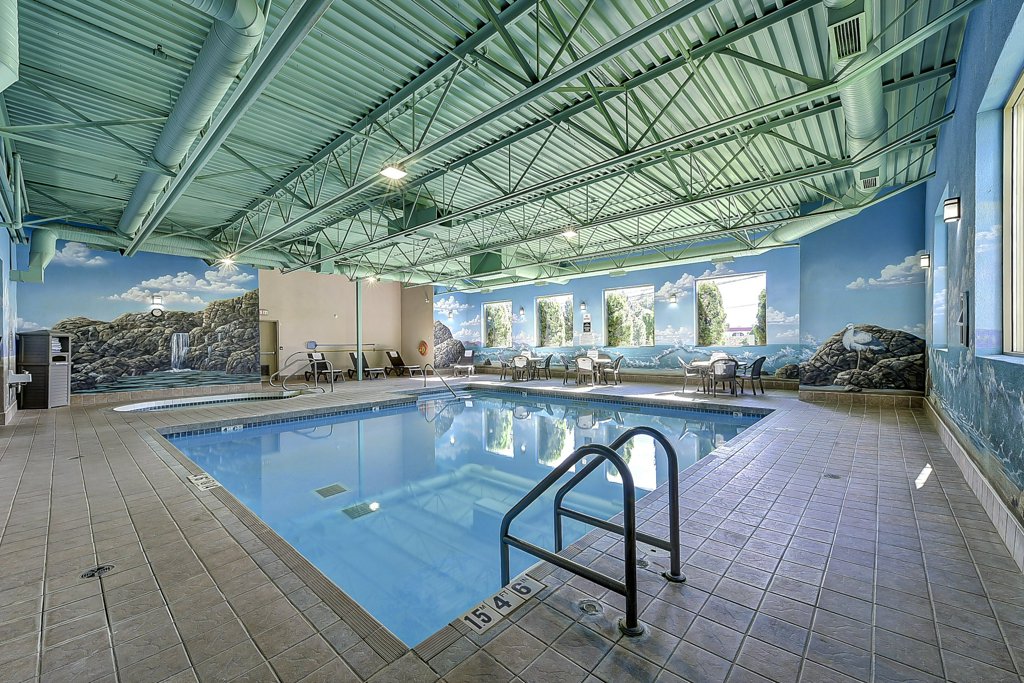 4. Osoyoos Accommodation: Hotels With Pools for Families and Groups

If you're visiting Osoyoos with kids or as part of a sports team or group, finding a hotel with amenities like pools, waterslides and recreation centres is key. The hot summer weather means you'll want ways to cool off and keep the little ones entertained.
Some top options for families and groups include:

1. Vineyard Resort & Spa: In addition to its full-service spa, these upscale resorts have an outdoor pool, hot tubs, tennis courts and a games room. Their one and two-bedroom suites offer kitchens and living rooms, perfect for families and groups.

2. Beach Resort: Best Western Plus has two outdoor pools, a splash park, a waterslide and a recreation centre. Their spacious suites can accommodate up to six people with kitchenettes and balconies overlooking the lake.

3. Holiday Inn & Suites: For those on a budget, the Holiday Inn offers affordable rooms and suites, an indoor pool and hot tub, a playground and a games room. Their suites sleep up to six people, and some offer kitchenettes.

With the hot and dry summers, a hotel featuring pools and waterslides is a must in Osoyoos, especially if you're travelling with kids or as a group. The summer months, from June through August, are the hottest, so you'll appreciate a place to cool off and relax. The resorts and hotels here cater very well to visitors of all ages, so you can be confident in finding family-friendly accommodations perfect for your Osoyoos getaway.
5. Tips for Visiting Osoyoos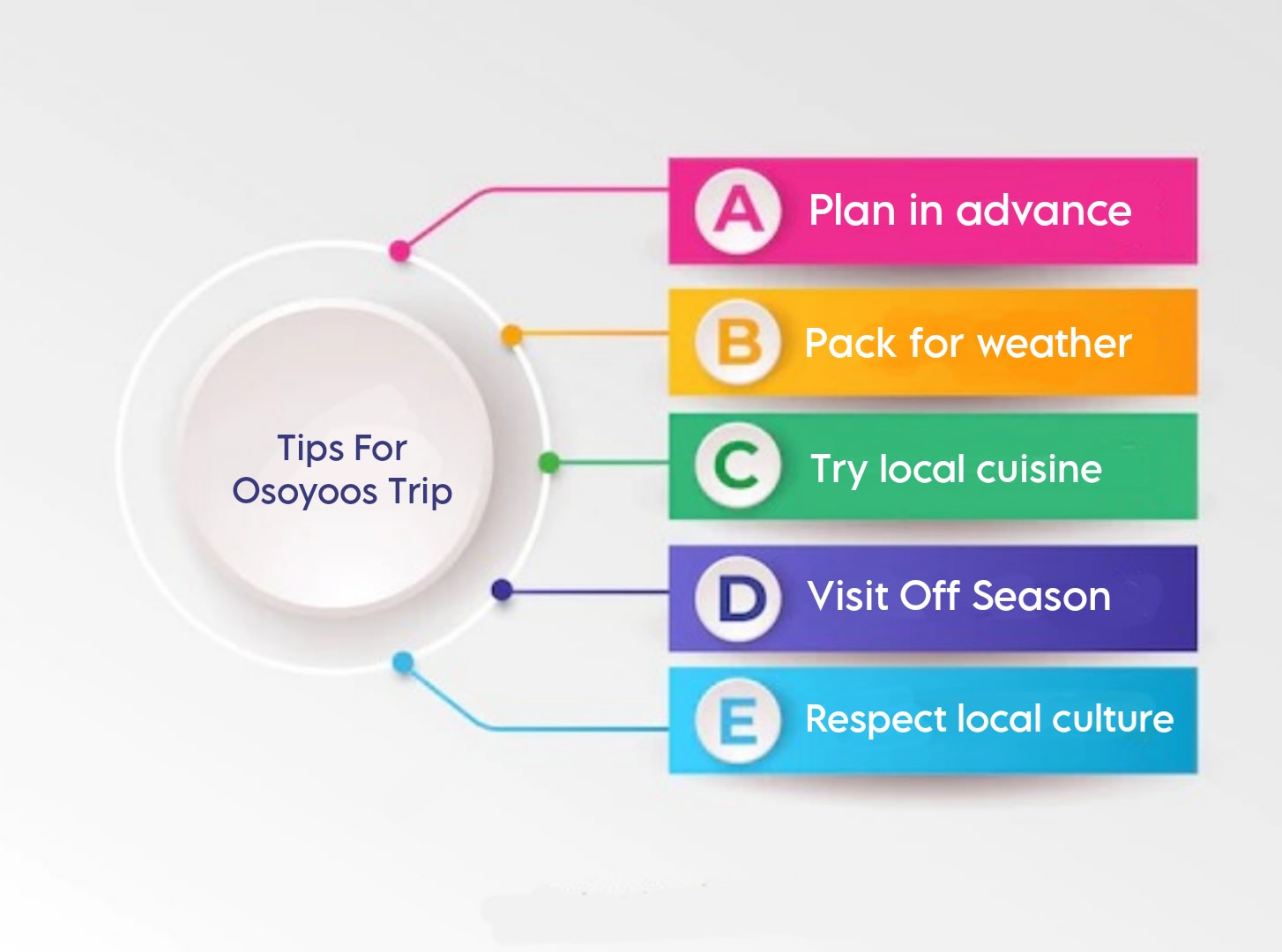 Plan Your Visit in Advance: 
Osoyoos is a popular destination, especially during the summer months. To ensure availability and get the best deals on accommodations and activities, it's advisable to plan your visit well in advance. Book your accommodations, tours, and activities ahead of time to secure your desired options.
Pack for the Weather:

 
Osoyoos experience hot and dry summers, so pack lightweight and breathable clothing, sunscreen, hats, and sunglasses. If you're visiting in the shoulder seasons or winter, pack layers and warmer clothing, as temperatures can drop. Don't forget to bring a swimsuit and beach essentials for enjoying the lakes and pools.
Explore the Local Wineries: 
Osoyoos is located in the heart of Canada's wine country. Take the opportunity to explore the local wineries and indulge in wine tastings. Plan a wine tour or visit some of the renowned wineries in the area, such as Best Western Plus Osoyoos.
Enjoy Outdoor Activities: 
Osoyoos offers a range of outdoor activities. Make sure to take advantage of the stunning natural surroundings. Enjoy swimming, boating, paddleboarding, or kayaking in Osoyoos Lake. Go hiking or biking on the nearby trails, visit the Osoyoos Desert Centre, or play golf at one of the scenic golf courses.
Visit Osoyoos Desert Model Railroad:
If you're travelling with family or have an interest in model railroads, make sure to visit the Osoyoos Desert Model Railroad. This impressive indoor attraction features intricately detailed miniature landscapes, trains, and railway systems that will captivate visitors of all ages.
Respect the Environment and Local Culture:
Osoyoos is home to the Osoyoos Indian Band, and it's important to respect the local culture and traditions. Follow any guidelines or regulations when visiting protected areas, such as the Osoyoos Indian Band Reserve. Leave no trace, pick up after yourself, and be mindful of the fragile desert ecosystem.
Try Local Cuisine: 
Osoyoos boasts a vibrant culinary scene. Explore the local restaurants and indulge in fresh, farm-to-table cuisine featuring local ingredients and wines. Don't miss trying some of the region's specialities, such as fresh fruit, cherries, and local wines.
Also Read: Top Things to Experience in Osoyoos
Stay Hydrated: 
Osoyoos can get hot, especially during the summer. Stay hydrated by drinking plenty of water throughout the day, especially if you're participating in outdoor activities or spending time in the sun.
Visit Off-Season: 
Consider visiting Osoyoos in the shoulder seasons (spring and fall) or even during the winter. You'll experience a quieter atmosphere and lower accommodation rates and still be able to enjoy the beauty of the region.
Take Advantage of the Hot Springs: 
Osoyoos is famous for its natural hot springs. Relax and rejuvenate by visiting the local hot springs at Best Western Plus and enjoy the therapeutic benefits of the warm, mineral-rich waters.

By keeping these tips in mind, you'll be well-prepared to make the most of your visit to Osoyoos and create unforgettable memories in this beautiful destination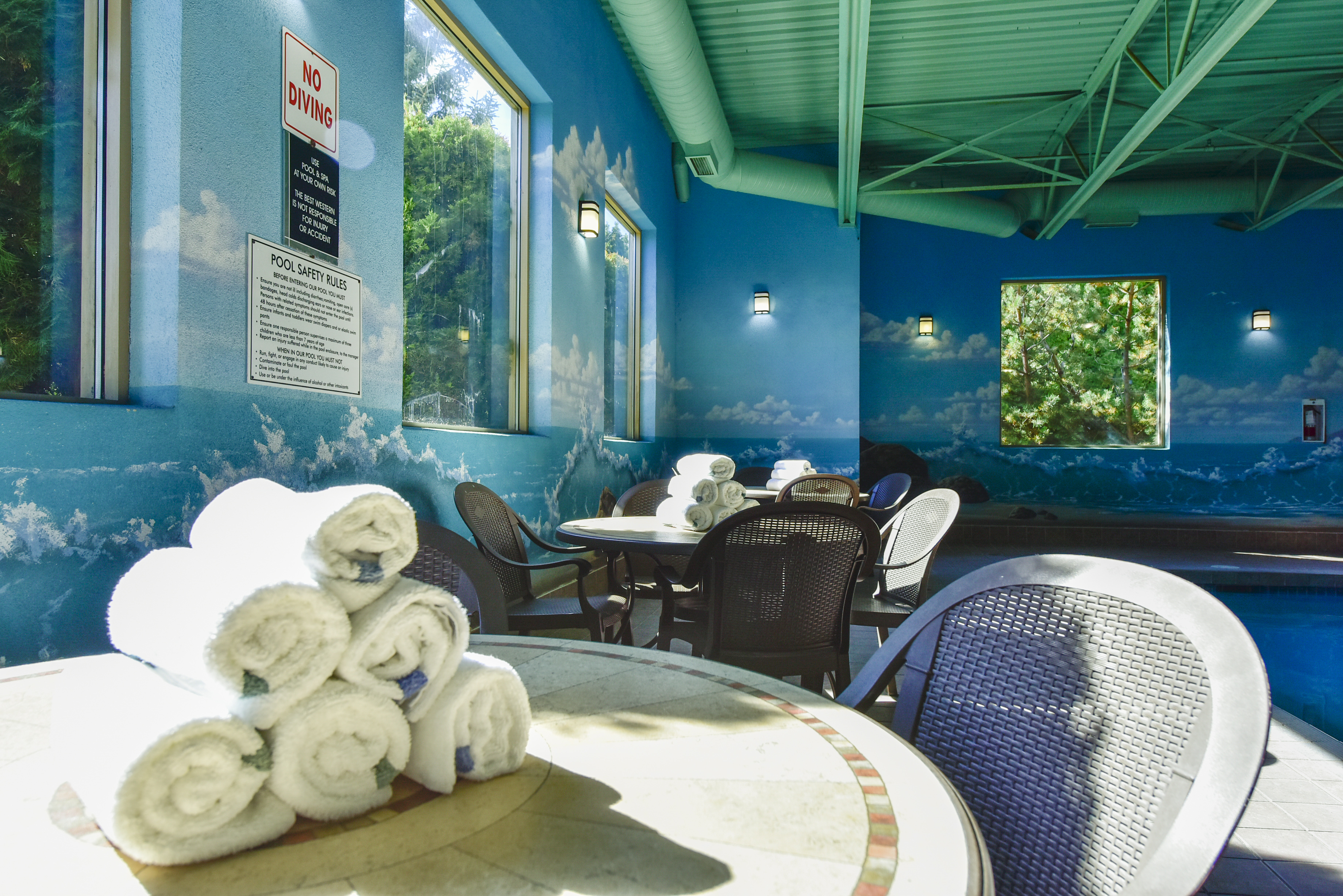 6. Conclusion
That covers the basics for planning the best time to visit Osoyoos. Whether you're looking to lounge by the lake, hit the links, sip some award-winning wine, or get an adrenaline rush on the water, Osoyoos has you covered.  The weather is ideal from May to October, the resorts and hotels offer amazing amenities, and there are activities for everyone. Once you experience the natural beauty and laid-back vibe of this little desert oasis for yourself, you'll be booking your return trip before you've even left. Planning your trip to Osoyoos with Best Western Plus Hotel & Suites offers an excellent accommodation choice in this beautiful destination. Best Western Plus ensures a pleasant stay with its convenient location and comfortable amenities. 

Whether you visit during the sunny summer or the picturesque fall season, this hotel provides an excellent base for exploring Osoyoos and enjoying the various attractions and activities the area offers. So pack your bags, charge your camera, and get ready for an unforgettable summer adventure in Osoyoos. This little slice of paradise in the Okanagan is calling your name!

7. FAQS

When is the best time to visit Osoyoos? 

The best time to visit Osoyoos is during the summer, from June to August, when the weather is warm and ideal for enjoying outdoor activities like swimming, boating, and wine tours.


What is the weather like in Osoyoos during the summer? 

Osoyoos experiences hot and dry summers with temperatures averaging between 25°C to 35°C (77°F to 95°F). It's the perfect weather for enjoying the beaches, water sports, and exploring the local vineyards.


Are there any specific events or festivals in Osoyoos worth visiting? 

Yes, Osoyoos hosts several events and festivals throughout the year. The Osoyoos Oyster Festival in April, the Cherry Fiesta in July, and the Osoyoos Indian Band Pow Wow in September are just a few examples of vibrant local events.


Is it worth visiting Osoyoos during the winter months? 

While Osoyoos is known for its hot summers, visiting during winter can still be enjoyable. Although colder, the region offers unique activities like skiing, snowboarding, and ice fishing, making it an appealing destination for winter enthusiasts.


What should I consider when visiting Osoyoos in the spring or fall? 

Spring and fall are transitional seasons in Osoyoos. The weather is milder, and the crowds are fewer compared to summer. These seasons are ideal for wine enthusiasts, as you can participate in wine tastings and vineyard tours and enjoy the stunning colours of the changing foliage.