Introduction: Benefits of Having Swimming Pools
As a family planning your next vacation, having hotels in Osoyoos with a swimming pool should be at the top of your list. Pools provide entertainment for kids and adults, allowing you to take a break from the hot sun while still enjoying your trip.

Staying at a hotel with a pool means built-in fun for the whole family. The kids can splash around for hours, burning off energy so they sleep well at night. You'll have the chance to relax poolside with a drink in hand, catching up on some reading or just chatting with your partner. Many hotels also offer poolside bars and dining, so you don't have to leave for meals.

If fitness is necessary to you, swimming provides an excellent full-body workout. You can get in some laps to start your day, no matter your planned activities. Hotel pools are also a great option if you want to stick to an exercise routine while travelling. Some hotels offer water aerobics or swimming classes you can join too.

For sports teams and golfers, a pool is ideal for recovery after a long day of activity in the hot sun. Take a dip to soothe sore muscles, relieve tension and rehydrate. Pools with hot tubs or whirlpools are perfect for maximum relaxation.
Also Read: Benefits of Staying At A Hotel With An On-Site Restaurant
Benefits of Having Swimming Pools in Hotels
No matter what brings you to a hotel, on-site benefits of having swimming pools, downtime and enjoyment. Seek out hotels advertising pools, spas or recreational facilities for a vacation that replenishes you. Your trip will be that much better for it.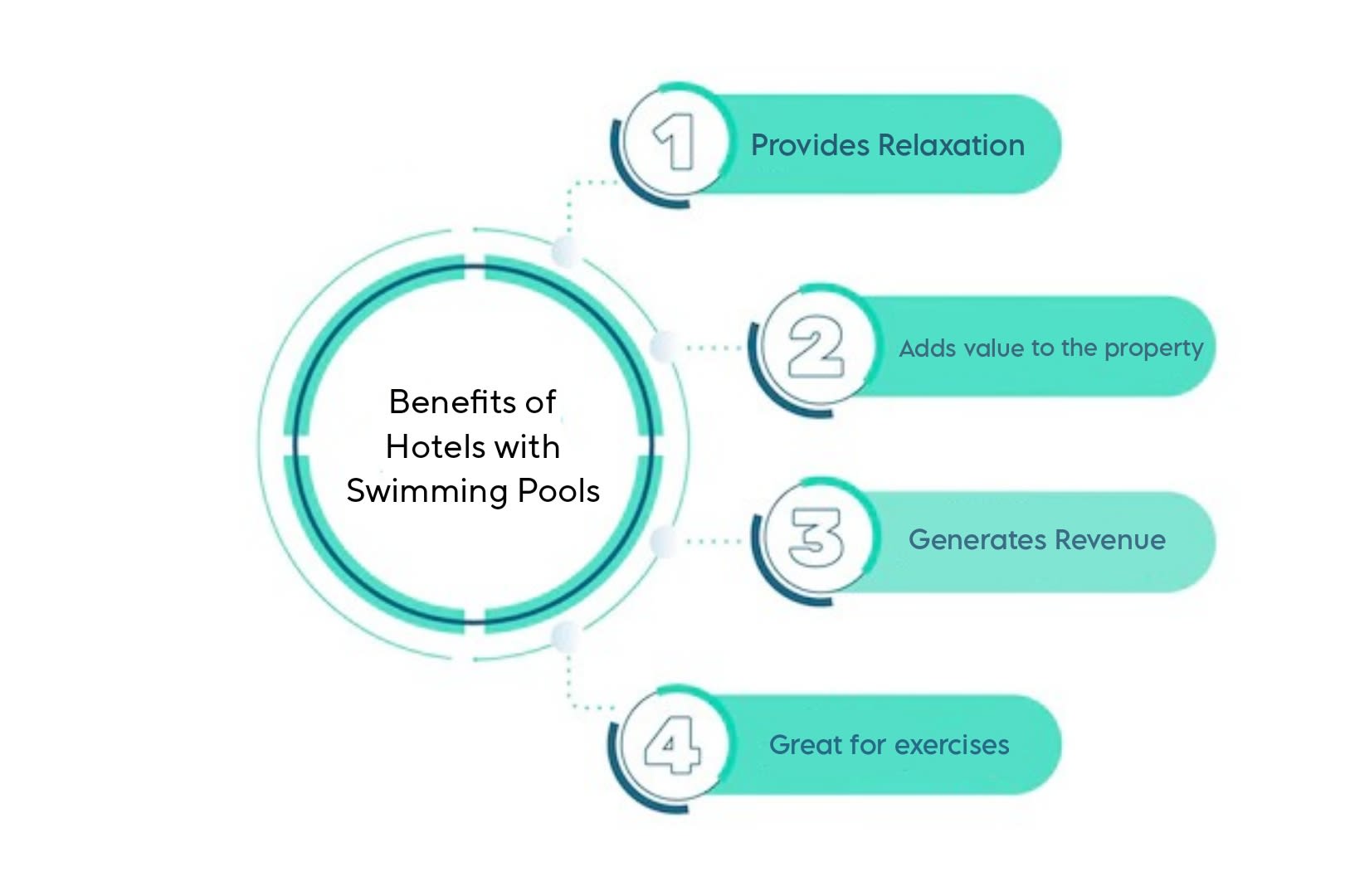 1. Provides Relaxation and Recreation
A swimming pool at a hotel provides relaxation and recreation for guests. After a long day of work or play, there's nothing like a dip in the pool. The sound of splashing water, the cool water on your skin, and the peacefulness of the surroundings help wash away your stresses and tensions.

You can swim laps to stay in shape or float blissfully without a care in the world. Many hotels offer poolside amenities like lounge chairs, cabanas, pool bars or restaurants where you can sip a tropical drink or enjoy a casual meal. Some even have hot tubs, water slides, and other features for extra enjoyment and entertainment.

Kids and families, in particular, love the recreational aspect of hotel pools. Children can spend hours swimming, splashing, and playing pool games. For sports teams, a collection provides relaxation and team bonding opportunities. Even for golfers, a swim can be the perfect way to unwind after a day on the course.

No matter what brings you to a hotel, a swimming pool adds significant value and provides an oasis of calm amid an otherwise busy trip. The recreational and relaxation benefits of a hotel pool are what keep guests coming back again and again. Any hotel would be careful to provide such an important amenity. 

After all, a collection can be the deciding factor for many travelers seeking accommodation Osoyoos has to offer.
2. Great for Exercise and Physical Therapy

There are various benefits of having swimming pools for guests. A collection can be a great way to get some exercise and physical therapy for those recovering from injuries or dealing with mobility issues.

Swimming is a perfect alternative if high-impact workouts like running or plyometrics aggravate your joints. The buoyancy of the water reduces stress on your bones and muscles, allowing you to move freely without pain. You can do aquatic aerobics, water walking, or simple swimming laps to get your heart rate up and improve your flexibility and strength.

The pool is also ideal for injury rehabilitation and physical therapy. The water's support and resistance help strengthen your muscles in a gradual, controlled manner. Kicking and arm movements improve the range of motion and build endurance. For back pain or post-surgery recovery, walking in the shallow end or doing gentle water aerobics can help get you moving again under the guidance of a physiotherapist.

- Low-impact and easy on the joints
- Reduces stress and strain
- Great for injury rehab and physiotherapy
- Can do aquatic aerobics, swimming or walking
- Improves flexibility, strength and range of motion
For many travellers, especially families, sports teams and golfers, a pool is an essential amenity when booking accommodation. Not only does it provide recreation and leisure, but it also provides health and wellness benefits for people of all abilities. An on-site pool at a hotel is ideal for guests wanting to stick to their usual exercise routine or requiring aquatic therapy while away from home.
Also Read: Benefits of Playing Golf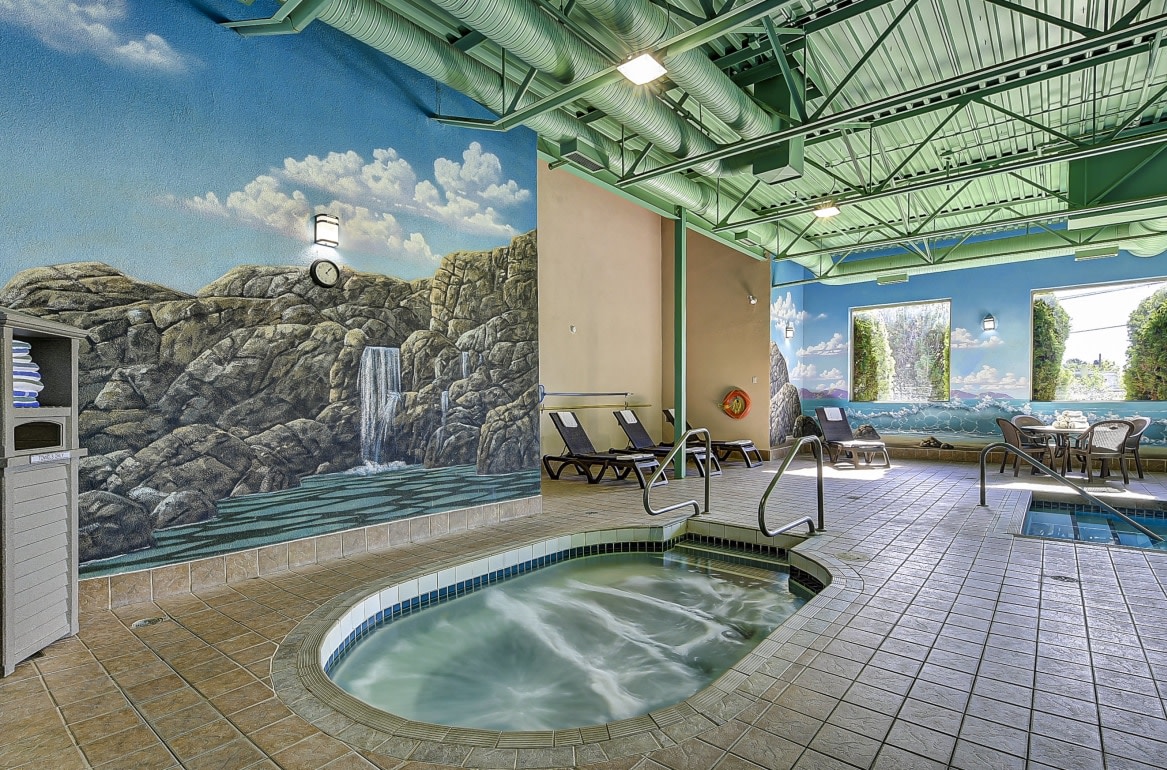 3. Adds Value to the Property
The benefits of having swimming pools are enormous for guests and property owners. As a guest, a collection adds value to your stay and provides opportunities for recreation and relaxation. For the hotel, a pool can attract more visitors and increase profits.

A swimming pool increases a hotel's appeal and perceived value, especially for leisure travellers and families. Guests will often pay higher room rates and longer stays at hotels with pools. This additional revenue and occupancy directly benefit the hotel's bottom line. Pools also provide an amenity that gives hotels a competitive advantage over properties without one.

- Higher occupancy and longer stays. Guests, especially families, will choose a hotel with a pool and often stay longer.
- Increased room rates. Hotels typically charge 10-30% more for rooms with pool access or cabanas.
- Competitive advantage. A pool attracts more visitors and provides an amenity that competitors may lack.
- Additional revenue. Hotels profit from poolside food and drink sales, cabana rentals, and activity fees like swim lessons or water aerobics classes.
4. Attracts More Guests and Generates Revenue
Swimming pools are a significant draw for most hotel guests. An inviting pool area gives your hotel a competitive edge and provides an appealing recreational amenity for visitors.

A sparkling swimming pool surrounded by lounge chairs and umbrellas screams vacation to most people. Families with kids will search out hotels with collections to keep the little ones entertained. Sports teams and golfers will also appreciate a place to cool off after a long activity day in a hotel with golf Osoyoos offers.

Providing poolside service for food, drinks, and cocktails gives guests another reason to spend more time relaxing, leading to higher spending and revenue. People on vacation tend to indulge, so an inviting pool bar or cafe is a prime spot for upselling snacks, meals and alcoholic beverages with a healthy markup.

- Consider offering poolside specials and happy hour deals to encourage guests to buy more.
- Provide recreational equipment like pool toys, games, towels and sunscreen so guests can enjoy the pool without running back to their rooms.
- Play upbeat music to create a fun, lively ambience that puts people in the mood to unwind and spend money.
- Keep the pool well-maintained and staffed with friendly attendants to give guests a premium experience that exceeds their expectations.
An attractive swimming pool provides entertainment and exercise for your guests, gives them a reason to spend more time (and money) at your hotel, and serves as a memorable highlight of their stay. For these reasons, a pool can be a valuable amenity for generating additional revenue and building guest loyalty.
Also Read: Best Things To Do In Osoyoos
Conclusion
So next time you book a hotel, watch for one with an inviting pool. Whether travelling with kids, on a sports trip, or just looking to relax, a swimming pool benefits everyone. A quick dip can wash away the stresses of travel and help you unwind, while the kids will appreciate the chance to splash around. 

The simple pleasures of swimming, sunbathing or enjoying a drink poolside will enhance your vacation experience and create memories to last well after you've checked out. Remember to pack your swimsuit when planning your next getaway - you'll be glad you did!

Frequently Asked Questions

Why do hotels have swimming pools?

Hotels have swimming pools to enhance the guest experience and provide them with recreational activities during their stay.

Are there any health benefits to using hotel swimming pools?

Yes, swimming is a low-impact exercise that offers numerous health benefits, including improved cardiovascular fitness, muscle toning, and stress relief.

Do hotel swimming pools attract more guests?

Hotels with swimming pools tend to attract more guests, especially families and leisure travellers who value relaxing and enjoying recreational activities.

Are hotel swimming pools suitable for all ages?

Hotel swimming pools are designed to cater to a wide range of guests, including children and adults. Some hotels even have separate pools or areas for children to ensure their safety and enjoyment.

Can hotel swimming pools be used for social events?

Yes, hotel swimming pools are often used for social events such as poolside parties, cocktail receptions, or even weddings. They provide a unique and picturesque setting for memorable gatherings.