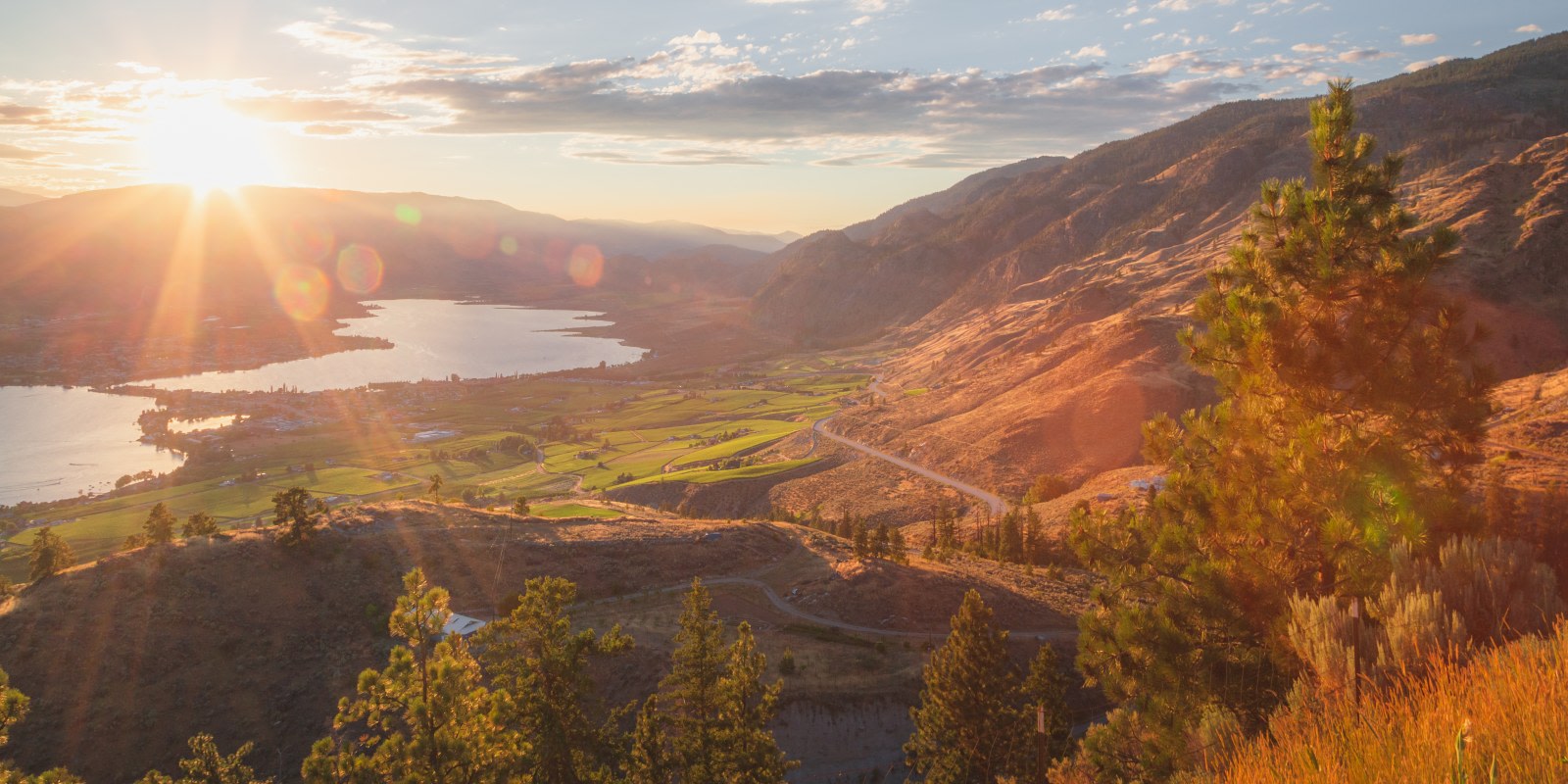 This town is a special place in the South Okanagan. It's perfect for people who love excitement and those who want a peaceful escape. From the shimmering waters of Canada's warmest lake to the breathtaking views from the Anarchist Mountain Lookout, there's no shortage of things to do and see. Let's dive into the top ten things to try in Osoyoos for first-time visitors.
The Osoyoos Welcome
Stepping into Osoyoos, especially for the first time, can be both exhilarating and overwhelming. With its myriad of activities and sights, where does one even begin? Many travellers, seasoned by the sun and the sands of Osoyoos, have their list of favourites. But for a newbie, the choices can be dizzying. Imagine walking into the Osoyoos Visitor Centre, the scent of fresh brochures in the air, and asking, "What should we try while we're here?" Well, let's dive into ten must-try activities for every Osoyoos first-timer.
Things To Try In Osoyoos For First-Time
1. Wine Not Start with a Tour?
The South Okanagan's sprawling vineyards are a sight to behold. World-class wineries dot the landscape, each offering a unique blend of views and vintages. If you've never been to Osoyoos, embarking on a wine tour should top your list. Numerous wine tour companies operate in the region, offering tailored experiences. Whether you're a wine connoisseur or a casual sipper, these tours promise a day of discovery and delight. And the best part? No driving worries!
2. Gyro Beach: More than Just Sand and Water
Nestled at the heart of Osoyoos is Gyro Park, a haven for both relaxation and recreation. As the sun sets, painting the sky in hues of orange and pink, a stroll along Gyro Beach is pure magic. The trail, stretching from the Osoyoos Marina to Highway 3, offers panoramic views of the lake and its vibrant surroundings. And if you're up for a longer walk, the Pioneer Walkway awaits on the other side of the bridge.
3. Downtown Osoyoos: A Canvas of Colour
The town's walls tell tales of art and creativity. Over the years, local artists have transformed mundane walls into vibrant canvases, each mural telling a unique story. From the rhythmic beats of hearts to the playful antics of Bugs Bunny, downtown Osoyoos is an art lover's paradise. So, grab our guide and embark on a mural discovery journey.
4. Main Street: Where Shopping Meets History
Main Street, or Highway 3 as some call it, is the pulsating heart of Osoyoos. It's a blend of the old and the new, where traditional stores meet modern cafes. A visit to Osoyoos Home Hardware is a trip down memory lane, with its unique offerings and seasonal displays. And if fashion is your calling, Main Street won't disappoint. From the iconic Unity Clothing, a brand that's caught the eye of celebrities, to women's fashion hubs like Wander Home and The Curator, there's something for everyone. And when hunger strikes, Jojo's Cafe and Scoopsies have got your back.
Also Read: Things To Do In Osoyoos During Your Stay
5. Dive into Watersports at Osoyoos Lake
Osoyoos are synonymous with watersports. Imagine sailing with the wind in your hair, wake surfing behind a roaring powerboat, or simply floating on a paddleboard, taking in the serene beauty. Osoyoos Lake isn't just any lake; it's the warmest in Canada! With temperatures soaring over 25°C in the peak summer months, it's a haven for water enthusiasts. 

And if you're a newbie, fret not. The town is dotted with companies ready to equip you, guide you, or even teach you the watersport of your dreams. And after a day in the water, what's better than heading back to one of the Osoyoos hotels with pools to continue the aquatic fun?
6. Pedal Away on the International Hike & Bike Trail
Got a bike? Bring it along! The International Hike & Bike Trail is an 18.4 km stretch of pure scenic beauty. Starting just north of Osoyoos Lake, this trail is a cyclist's dream, meandering through lush vineyards and farms. It's wide, flat, and perfect for all ages. And if you've left your bike behind, Osoyoos has got you covered. Rent one from Double O Bikes or Sessions Outdoor Sports, both nestled in the town's heart.
7. A Day at Covert Farms Family Estate
Imagine a sprawling 650-acre organic farm and vineyard, waiting to be explored. Covert Farms Family Estate isn't just a farm; it's an experience. From private picnics and wine tastings to hopping on a vintage '52 Mercury truck for a tour, it's a day packed with memories. And if you're visiting during the right season, plucking fresh strawberries is a treat not to be missed.
8. Fruitful Stops in Osoyoos
South Okanagan's fruit is legendary. Juicy apples, succulent cherries, and a plethora of other fruits await you at the numerous stands sprinkled across the region. Driving around Osoyoos, you're bound to stumble upon these fruit havens. And to make your life easier, there's even a map marking the best spots between Osoyoos and Oliver.
9. Sunset Magic at Anarchist Mountain Lookout
If there's one hidden gem first-timers should not miss, it's the Anarchist Mountain Lookout. A mere 10-minute drive from Osoyoos, this lookout offers panoramic views of the town, lake, and vineyards. As the sun sets, painting the sky in hues of orange, yellow, and pink, you'll realize why this spot is special.
10. Dive into Osoyoos' Rich Culture
The Nk'Mip Desert Cultural Centre is a testament to Osoyoos' rich heritage. Here, you'll discover the stories of the desert and the Osoyoos Indian Band. If you're lucky, you might even spot a western rattlesnake! For those who love nature, the Osoyoos Desert Centre offers a glimpse into the region's unique flora and fauna.
Also Read: Benefits of Hotel Gym
Conclusion
Osoyoos is more than just a destination; it's an experience. Whether you're teeing off for a round of golf in Osoyoos or relaxing in a hotel with jacuzzi in room, the town promises memories that'll last a lifetime. So, pack your bags and let Osoyoos show you the time of your life!

While we've covered some of the top attractions, Osoyoos has much more in store. From hotels in Osoyoos that promise luxury (think jacuzzis in rooms!) to those with stunning pools, your stay in Osoyoos will be nothing short of spectacular. And for the sporty souls, the golf Osoyoos have are both challenge and charm.

So, whether you're looking for a relaxing getaway or an adventure-packed holiday, Osoyoos welcomes you with open arms. Dive into its wonders, and who knows, you might just join the league of travellers who return year after year!
FAQs




What sets Osoyoos apart as a unique destination in the South Okanagan?

Osoyoos is unique due to its perfect combination of exciting activities and relaxing retreats. It has a wide variety of attractions, from Canada's warmest lake to the breathtaking view from the top of Anarchist Mountain.


I'm a wine enthusiast. What should I expect in Osoyoos?

If you enjoy wine, you'll love Osoyoos. Vast vineyards and prestigious wineries may be found in South Okanagan. You can go on a wine tour and try all sorts of different wines while taking in the picturesque scenery.


Does Osoyoos have any interesting cultural sites?

Absolutely! Learn about the Osoyoos Indian Band, the desert habitat, and the town's rich history at the Nk'Mip Desert Cultural Centre. There are elements of both culture and nature present.


I'm aware of the Anarchist Mountain Lookout. Is going there a good idea?

Definitely! Views of Osoyoos, the lake, and the vineyards are especially beautiful at sunset from the Anarchist Mountain Lookout, which is only a ten-minute drive away.