Introduction: Advantages of Stay and Play Golf Packages
Are you looking for an exciting golf getaway? Stay-and-play packages are the way to go. These bundled deals provide major perks for golfers that regular tee times can't match. In this blog will learn about the advantages of stay and play golf packages.
Why Choose Stay-and-Play Golf Packages
Whether looking for a quick golf Osoyoos vacation, stay and play packages offer advantages for golfers of all skill levels. Reward yourself with an all-in-one escape where your swing is the only thing left to worry about! The perks of bundled travel will have you wanting to stay and play again.
1. Save Time and Hassle With Convenient Accommodations

When you book a stay-and-play golf package, you'll save yourself the hassle of making separate accommodation and tee times arrangements. The resort or hotel cares for you, so you can focus on what matters—perfecting your swing!

Advantages of stay and play golf packages often include lodging right on or very near the golf course. No more packing up your clubs and equipment to drive across town. Just walk out the door of your room or villa and head to the first tee. Some resorts even offer golf cart shuttle services to whisk you around the property.

With an all-inclusive package, you'll typically enjoy unlimited golf and access to other amenities; choose Osoyoos hotels with pools, gyms, and restaurants. Meal plans allow you to refuel between rounds without leaving the grounds. And when you're done for the day, everything you need is just steps away.

Stay-and-play golf getaways provide the ultimate in convenience and value. You can play as much as you like without worrying about additional fees or making separate bookings. Everything is bundled together to enjoy a seamless, stress-free golfing getaway. Now that's a real vacation.

Stay and play—the best way to get your golf on without distraction. All you need to pack is your clubs, clothes, and an appetite for adventure on the course! Tee off on a fantastic golf escape with the perfect combination of recreation and relaxation.
Also Read: Benefits of Playing Golf
2. Enjoy Beautiful Scenery and Top-Notch Amenities

Enjoying the gorgeous surroundings is one of the best perks of stay and play golf packages. Osoyoos is located in the heart of British Columbia's wine country, surrounded by vineyards, orchards and stunning desert scenery with the shimmering Osoyoos Lake as a backdrop. You'll be amazed by the vivid sunsets over the lake and the panoramic views of the golden hills.

- Play a round of golf while taking in views of the rolling hills and vineyards.
- Go for a stroll or bike ride along the lakefront walkway and soak in the tranquil setting.
- Take a guided boat tour to get out on the lake and see the scenery from the water.
- Visit some of the local wineries and do a tasting with picturesque valley views.

Osoyoos golf resorts and hotels offer first-rate amenities and services for a well-rounded getaway.

- Swim in an outdoor pool or hot tub, play tennis, or relax in the gardens.
- Get pampered at a spa with massage treatments, facials and more.
- Dine at an onsite restaurant featuring local ingredients and stunning views. Room service is also available if you prefer.
- Well-appointed guest rooms provide all the comforts of home so you can unwind in style.
With world-class golf, stunning scenery and resort amenities, stay-and-play golf packages, hotels in Osoyoos British Columbia, offer a getaway experience. You'll go home rested, recharged and planning your next visit.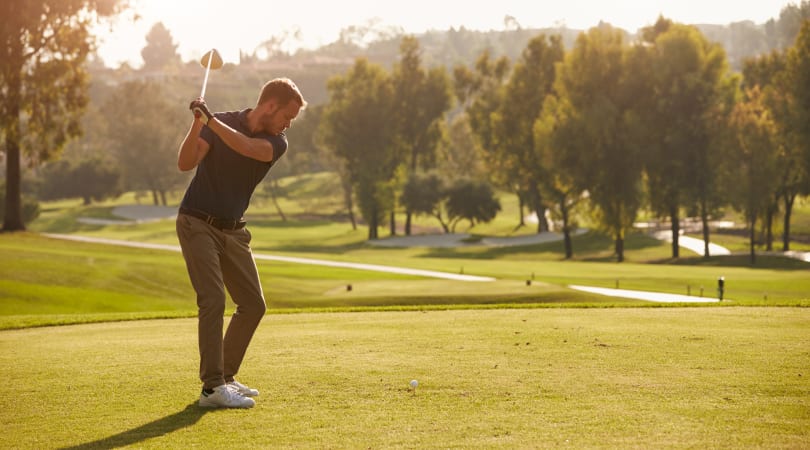 3. Play Unlimited Golf at Amazing Courses
Stay-and-play golf packages give you access to some of the region's best golf courses - many of which have hosted major championships. You'll experience the same courses as the pros, tackling the challenging holes and slick greens. Most resorts offer multiple courses on-site so that you can play a new track every day.

- Many resort courses have hosted PGA and LPGA events. Now you can follow in the footsteps of legends and experience what it's like to play a tour-level system.
- Resort courses are designed to challenge the world's best players with tricky doglegs, water hazards, and multi-tiered greens. Test your skills on a course worthy of significant events.
- Most resorts offer various course styles - parkland, desert, mountain, etc. You'll never get bored playing the same period over and over. With a range of courses, you can play a new track each day of your trip.
Staying on-site at a golf resort also means accessing excellent practice facilities to tune up your game. Work on your swing at the driving range and putting green before teeing off. Many resorts also have pro shops, clubhouses and sports bars to enjoy after your round. Make the most of unlimited golf and everything these world-class resorts offer!
Also Read: Benefits of a Hotel with a Swimming Pool
4. Indulge in Fine Dining and Local Wines
One of the main advantages of stay and play golf package is enjoying delicious food and drinks after a round of golf. The Okanagan Valley is known for world-class wineries, farm-to-table dining, and stunning views.

- Sample award-winning wines at over 200 wineries like Mission Hill Family Estate, Quails' Gate or Tinhorn Creek Vineyards. Many offer tours and tastings with spectacular lakeside settings.
- Savour gourmet cuisine at restaurants like The Packing House, The Lakehouse Restaurant or The Sonora Room, where locally-sourced ingredients are crafted into culinary masterpieces.
- Discover hidden gem eateries like Cafe Osoyoos, The Grand Oasis Bistro or Convivia Bistro & Bakery: sample artisanal cheese, freshly baked goods or casual fare with laid-back vibes.
- Take a break from golf and go on a wine tour to gain an appreciation for the region. Most tours pick you up from your hotel and take care of all the details so you can relax and enjoy.
- Remember the weekly Osoyoos Market on Main Street. Browse local crafts and produce while listening to live music. Grab a snack and a drink at one of the food trucks or nearby patios.
With world-class wineries and dining around every corner, your taste buds will be as satisfied as your golf game after a stay-and-play package in the Okanagan. Savour each meal and take time to unwind—you've earned it! The variety of culinary options means there's something for every palate to enjoy.
Also Read: Reasons to Love Hotels with Gym & Jacuzzi
Conclusion
So there you go, everyone. The best way to enjoy a golf holiday with friends or family is with stay and play golf packages. After a day on the greens, you may unwind in luxurious accommodations Osoyoos offers with various amenities and access to specific courses in breathtaking locations—nothing complicated or stressful, just a carefree getaway filled with golf, fun, and stunning surroundings. 

Look no further than stay and play packages if you're eager to take a golf vacation. They give you fantastic value, convenience, and memories you'll cherish long after leaving the clubhouse. Why are you holding out? Plan your upcoming round of golf right away!

FAQs

What is a stay and play golf package?

A stay and play golf package is a bundled offering that combines accommodation and golfing activities in a single package. It typically includes accommodations at or near a golf course, along with rounds of golf and sometimes additional amenities.

Are stay and play golf packages more cost-effective than booking separately?

Stay-and-play golf packages often offer cost savings compared to booking accommodations and tee times separately. Golf courses and resorts typically provide discounted rates when bundled together, making it a more affordable option.

Can I customise a stay and play golf package?

Yes, many stay and play packages offer customisation options. Golfers can often choose tee times, preferred golf courses, accommodation types, and additional activities or amenities to tailor the package to their preferences.

Are stay and play golf packages suitable for all skill levels?

Absolutely! Stay-and-play golf packages cater to golfers of all skill levels, from beginners to experienced players. There are options for different course difficulty levels, and containers can be tailored to meet individual needs.

What additional benefits can I expect from a stay and play golf package?

Besides accommodation and golf rounds, stay-and-play packages often provide access to resort amenities such as practice areas, driving ranges, fitness centres, swimming pools, spa services, and restaurants. They also offer the opportunity to socialise with other golfers through events and tournaments organised by the resort.