1. Introduction: Benefits of Hotel with a Swimming Pool
You've spent weeks planning the perfect summer vacation. The destination is set; you've packed your bags, and now you just need to book a hotel. Before you click reserve on just any old room, consider this: wouldn't a place with an onsite swimming pool make your trip exponentially more enjoyable? 

Here are ten reasons why booking a hotel with a swimming pool should be at the top of your must-have list. A swim after a long travel day will wash away your worries. An early morning dip will energise you for a day of sightseeing.  If the summer heat gets unbearable, you'll have instant relief and a place to cool off. 

The kids will have entertainment for hours on end, leaving you to relax poolside with a drink in hand. When the sun goes down, a night swim under the stars is the perfect way to end the day.  Need any more convincing? Keep reading to discover all the benefits of staying at a hotel where swimming is always an option. Your dream vacation awaits!
Also Read: Benefits of Hotel with Jacuzzi
2. Top 10 Benefits Of A Hotel With A Swimming Pool
Booking a hotel with a swimming pool has so many benefits, especially for families, sports teams, golfers, and wine tour guests. Here are the top 10 reasons you should consider a hotel with a pool:
Enjoy Fun Family Activities
A pool provides entertainment for both kids and adults. Your family can play fun games like Marco Polo, dive for rings or have pool races and contests.
Stay Fit While Traveling
Don't take a break from your exercise routine just because you're on vacation. Swimming is a great way to get some cardio without impact on your joints. You can do laps or just walk and jog against the resistance in the pool.
Relieve Stress After a Long Day
There's nothing quite like a swim to wash away tension and relax your mind and body. The buoyancy of the water helps release tight muscles.
Improve Sleep Quality
Exercising during the day leads to better sleep at night. A pool swim is perfect for tiring your body in a good way. You'll sleep like a baby after an evening dip.
Escape from Hot Weather
If you're travelling to a hot climate, a hotel pool lets you cool off and beat the heat. Take frequent breaks from the sun and chill in the pool as long as you like.
Good for Muscles and Joints
Water aerobics and swimming are low-impact exercises that increase flexibility and strength without straining your body. They're perfect for people with injuries, arthritis or limited mobility.
Improves Blood Circulation
The water pressure and resistance during swimming help pump blood throughout your body. This improves oxygen flow to your muscles and organs.
Maintain Your Fitness
Don't fall out of shape on vacation. Swimming lets you get aerobic exercise and strength training to maintain muscle mass and cardiovascular health while away from home.
Socialize
A pool area is a great place to interact with other hotel guests. Strike up a conversation, bond over your love of swimming or play pool games together. You never know, you might make a new friend!
Convenient Source of Recreation
Having an onsite pool means built-in entertainment without having to go anywhere. Everything you need for fun and fitness is right at your hotel. No need to pack up towels, toys, sunscreen or anything else for an outing. Just head down to the pool!
Also Read: Reasons to Love Hotels with Gym & Jacuzzi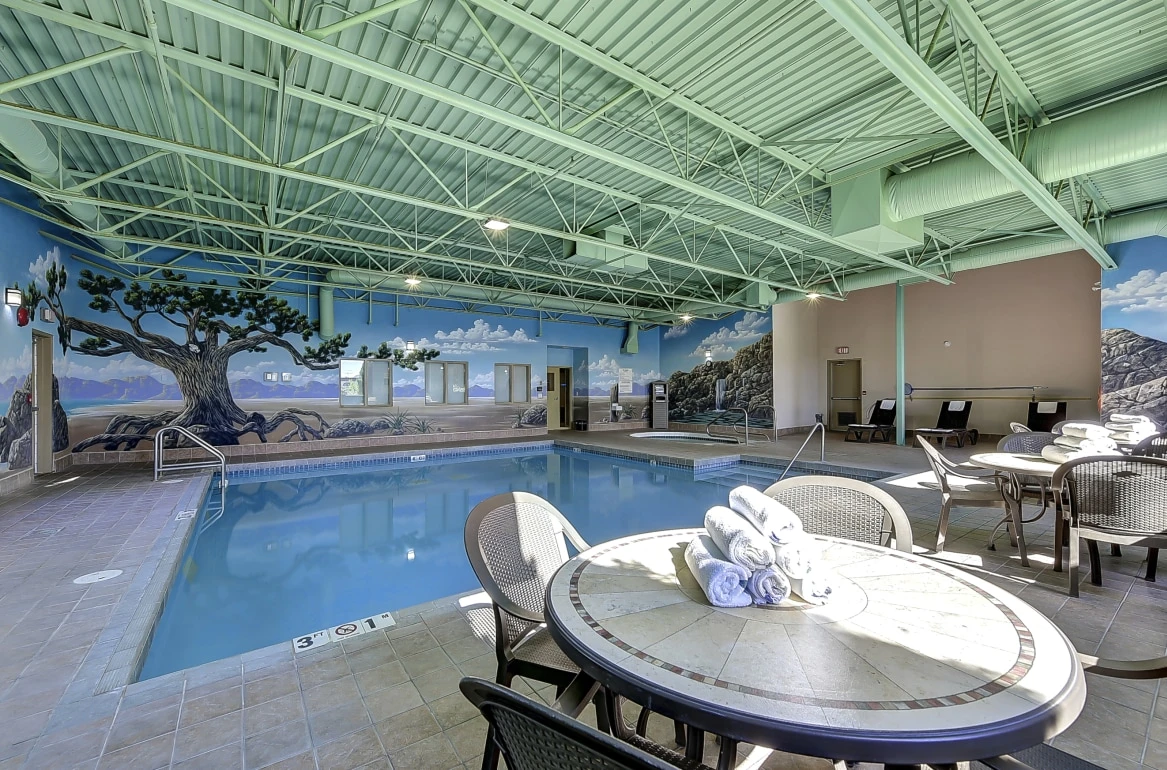 3. Tips for Enjoying a Hotel Pool

Once you've booked your hotel with an enticing pool, it's time to make the most of it! Here are some tips for fully enjoying your hotel pool experience:

- Check the pool hours and any rules in advance. Some hotels have adult swim times or open/close the pool at certain hours. You'll want to know the details so you can plan your pool days accordingly.

- Don't forget sun protection. Bring sunscreen, sunglasses, a hat and anything else you need to avoid sunburn. Getting too much sun can put a damper on your vacation.

- Consider pool toys or floats. If it's a family trip or you just want to relax, pool floats, or toys can make swimming even more enjoyable. Some hotels provide basic floats you can borrow.

- Take advantage of poolside amenities. Many hotels offer amenities like cabanas, lounge chairs, towels, umbrellas, cafes, bars and grills. See what's available and take full advantage of the amenities that interest you.

- Check if the pool has fun features. Some hotels have pools with waterslides, splash pads, diving boards, basketball hoops or volleyball nets. Features like these can turn an ordinary pool day into an exciting adventure.

- Consider poolside massages or treatments. If the hotel has a spa, they may offer massage therapists or estheticians that provide massages, facials and other treatments either poolside or with easy access from the pool. A poolside massage is the epitome of relaxation!

- Plan pool days during the off-season or weekdays. If you want to avoid crowds in the pool, visit during the hotel's off-season or earlier in the week. Weekends, especially in summer, tend to be the busiest times for hotel pools.

- Don't be afraid to strike up conversations with fellow guests. Some of the best parts of a hotel stay are the interesting people you meet. Engage with other hotel guests lounging by the pool. You might make a new friend!

With the right planning and mindset, you'll be splashing your way to an unforgettable hotel pool experience. Now grab your swimsuit and get ready to dive in!
Also Read: Reasons You Need A Beach Vacation
4. Conclusion

You now know the top 10 reasons why booking a hotel with a swimming pool is worth it. From enjoying recreational time with friends and family to soothing sore muscles after a long day of activities, a hotel pool provides opportunities for rest, relaxation, and rejuvenation.  If you are wondering "hotel with indoor pool near me", then I must tell you that Osoyoos accommodation offers a wide range of options to suit every traveller's needs and preferences. One of the best hotels in Osoyoos BC is Best Western PLUS Osoyoos Hotel & Suites.

The next time you're planning a getaway, don't settle for a basic room - treat yourself to a hotel with a pool and experience the luxurious amenities and memorable moments it offers. You deserve a vacation filled with splashing, swimming, and sunbathing. So go ahead and dive in - the water's great!


5. FAQS


Why is a hotel with a swimming pool beneficial? 

A hotel with a swimming pool provides a refreshing amenity for guests, offering relaxation, exercise, and entertainment during their stay.


What are the advantages of having a swimming pool in a hotel? 

Having a swimming pool enhances the overall guest experience, providing a fun and convenient recreational option without the need to travel elsewhere.


How does a hotel swimming pool contribute to relaxation? 

Swimming pools create a serene environment, allowing guests to unwind, destress, and enjoy a calming water experience while on vacation or during downtime.


Are there health benefits associated with using a hotel swimming pool? 

Yes, swimming is a low-impact exercise that promotes cardiovascular health, muscle strength, and flexibility, making a hotel pool an excellent option for fitness-conscious travellers.


Can a hotel swimming pool enhance family vacations? 

Absolutely! A hotel swimming pool is a fantastic attraction for families, providing a safe and enjoyable space for children to play, bond, and create lasting memories together.