Introduction: Benefits of Hotel with Jacuzzi

So you're planning a little getaway and want to make it extra special. Skip the standard hotel room and book one with a private jacuzzi - you won't regret it!
A hotel with a private jacuzzi is the ideal setting for reconnecting with friends or family while on vacation. Make lasting connections via conversation and laughter on your journey. There is no better place for couples to rekindle their romance than in a private jacuzzi with mood lighting.
An in-room jacuzzi also means you can stick to your usual routine. If you prefer bathing at night or first thing in the morning, you have the flexibility to do what suits you—no rush down to the pool before it closes. Osoyoos hotels with pools may be open 24 hours a day.

Whether you plan to hit the golf Osoyoos course, go wine tasting or lounge poolside, a hotel with an in-room jacuzzi allows you to customize your perfect getaway. Start and end your day relaxing in your private tub's warm, bubbly bliss. You deserve the additional indulgence—you are on vacation, after all! Please take advantage of it by reserving a jacuzzi-equipped accommodation. You'll be grateful to your body and mind.
The Benefits of a Hotel Jacuzzi and Why it's So Relaxing

A hotel with a private jacuzzi in your room is a total game changer. Here are a few reasons why booking a room with a jacuzzi is a must for your next getaway:
Ultimate relaxation:
Is there anything more soothing than sinking into a bubbling hot tub after a long day of activities? The massaging jets will melt your stress away and transport you to bliss.
Romance upgrade:
A private jacuzzi is ideal if you're looking to spice up a romantic weekend. Dim the lights, pour champagne, and enjoy an intimate soak with your sweetheart.
Rejuvenate sore muscles:
Whether in Osoyoos to golf, hike, or cycle, your muscles will appreciate a jacuzzi session. The hot water increases blood flow to your muscles, helping them recover faster so you can return to doing what you love.
Sleep like a baby:
The heat and massaging jets of a jacuzzi stimulate your body to release endorphins that act as natural painkillers and mood boosters. You'll emerge feeling utterly relaxed and sleep more soundly than ever.
Extra luxury:
A jetted tub in your hotel room feels luxurious. For a truly luxurious experience, look for a room with a jacuzzi with controllable jets, coloured mood lighting, Bluetooth speakers, and maybe even a fireplace. You deserve to indulge!

A private jacuzzi is the ultimate amenity for relaxation, romance, and rejuvenation on vacation. Once you've experienced it, you'll only want to book a hotel with one again!
Also Read: Best Things to do in Osoyoos
A Jacuzzi Is Perfect for Special Occasions

A hotel with a private in-room Jacuzzi is ideal for celebrating special events. Whether you're on a romantic getaway, family vacation or sports team adventure, a Jacuzzi adds luxury and comfort.

1. For your anniversary or honeymoon, slip into the bubbling hot tub with a glass of wine and unwind after exploring the town. The massaging jets will melt your stress away and bring you closer together.
2. If you're travelling with kids, a Jacuzzi is a fun family activity. Your little ones will love playing in the bubbles. Pack pool toys and snacks to make it an enjoyable experience for all.
3. Sports teams staying at a hotel after a big game will appreciate a Jacuzzi to soothe sore muscles. The heat and hydrotherapy are perfect for recovery. Head to the hot tub with your teammates to rehash the day's events and build team camaraderie.
Staying in a hotel with an in-room Jacuzzi also means you have privacy and convenience. You don't have to walk through public areas in your swimsuit or robe, and you can use the hot tub whenever you like during your stay.
Additional Perks
Many hotels with private Jacuzzis also offer other amenities to make your stay memorable:

1. Room service so you can order snacks, meals and drinks right to your room.
2. High-end bedding, linens and towels for the ultimate in comfort.
3. Fireplaces or fire pits to cozy up after exiting the hot tub.
4. Stunning views from your private balcony or patio.
5. Golf courses, spas, restaurants and attractions nearby, so there's plenty to do when you leave your room.
A hotel with an in-room Jacuzzi transforms an ordinary vacation into an unforgettable escape. The next time you plan a unique getaway, look for lodging featuring private hot tubs - you'll be glad you did!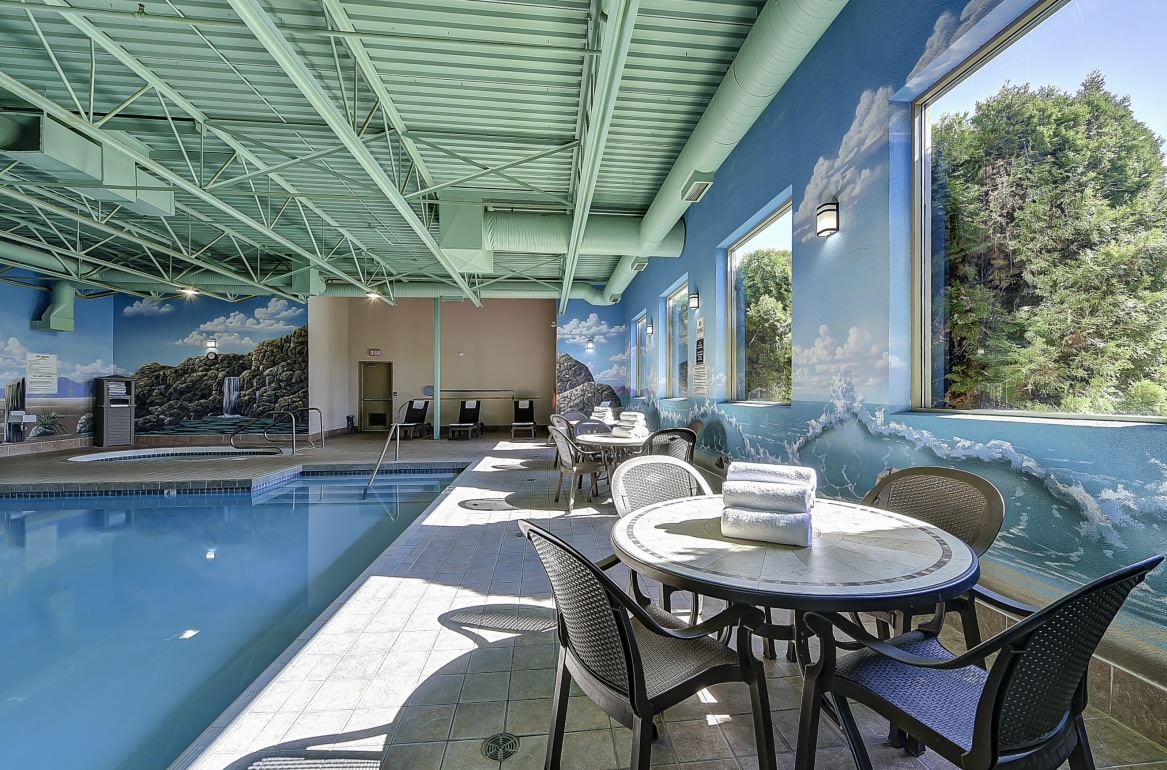 Choosing the Right Hotel With the Perfect Jacuzzi for Your Vacation
Size Matters
When choosing a hotel with an in-room jacuzzi, consider how many people will share it. Standard size will work great and be more affordable if it's just you. For families or groups, look for a hotel advertising larger suites with oversized jacuzzis, some big enough to fit 6-8 people. There's nothing like relaxing in a spacious jacuzzi after a long day of activities, especially if you have kids or friends along for the trip.
Location and Amenities
Consider how much use you'll get from the jacuzzi based on the hotel's location and amenities. If you're in a mountain town known for skiing, snowshoeing or winter sports, a hot tub can be heavenly after a day out in the cold.  For a beach getaway, look for a hotel within walking distance of the ocean so you can soak in the jacuzzi while still hearing the waves. Some hotels also have decks, patios or balconies connected to rooms with jacuzzis, ideal for stargazing at night.

Don't forget about amenities that complement a jacuzzi, like room service, bar service, fireplaces, luxurious bathrobes, premium bath products, and entertainment systems. Some higher-end hotels even offer in-room massages - now that's the ultimate indulgence when combined with a private jacuzzi!
Views and Privacy
Consider a hotel advertising jacuzzis with scenic views of the mountains, ocean or city skyline—nothing quite like taking in breathtaking views while immersed in bubbling hot water.  Also, look at how much privacy the jacuzzi offers. If it's in an open-concept suite, check if there are curtains or separators available in case you want to use it when others have turned in for the night. The more secluded and scenic the jacuzzi, the more you'll be able to relax and enjoy it.

Choosing the right hotel with jacuzzi in room for your vacation comes down to thinking about whom you're travelling with, what amenities and location will enhance your experience, and how much views and privacy matter for ultimate relaxation. Find the right balance of these factors; your hotel stay will be bubbling over with enjoyment.
Also Read: Best Time to Visit Osoyoos
How to Make the Most of Your Hotel Jacuzzi Experience?

Make it calming for the audience
It's time to relax in your jacuzzi after you check into your hotel room. Put some soothing music on, turn the lights down, pour yourself a glass of wine or a cocktail, and then relax in the warm, bubbling water. Put your worries aside and unwind. Take advantage of your chance to enjoy a restorative soak.
Take your time

There is no rush because you may use the jacuzzi in your room whenever you want. At least 30 to 60 minutes should be spent taking a lengthy, relaxing soak. Your muscles will be soothed by the massage jets, and the heat will help you relax. You're on vacation, so stay in as long as you like!
Bring extras

To enhance your experience, bring some bath essentials from home or pick some up from the hotel gift shop. Bath salts, bath bombs, essential oils, bubble baths or bath gel can help you create your spa. You may also want to bring a waterproof pillow, eye mask, book or tablet to keep you entertained.
Take breaks
A private hotel jacuzzi is meant for rest, rejuvenation and quality time with your travel companions. Follow these tips to make the absolute most of your experience. Take things slowly, bring extras for added luxury, stay in as long as you like and take breaks when needed. You'll leave feeling refreshed, relaxed and ready for your next adventure.
Also Read: Reasons for Beach Vacation
Wrap it Up

As you can see, booking a  hotel with jacuzzi in room offers compelling benefits for your stay in Osoyoos. Whether planning a romantic weekend getaway, family vacation or golf trip with friends, a private jacuzzi provides the perfect way to unwind after a day of activities. On your next trip to hotel in Osoyoos, do yourself a favour and book a hotel with jacuzzi in room. Once you experience the benefits of your private oasis, you'll never want to stay elsewhere!
A jacuzzi suite is ideal for a special occasion or even because you deserve to indulge. Start planning your relaxing getaway at one of the many beautiful hotels in Osoyoos BC, that offer in-room jacuzzis and hot tubs. You won't regret it!