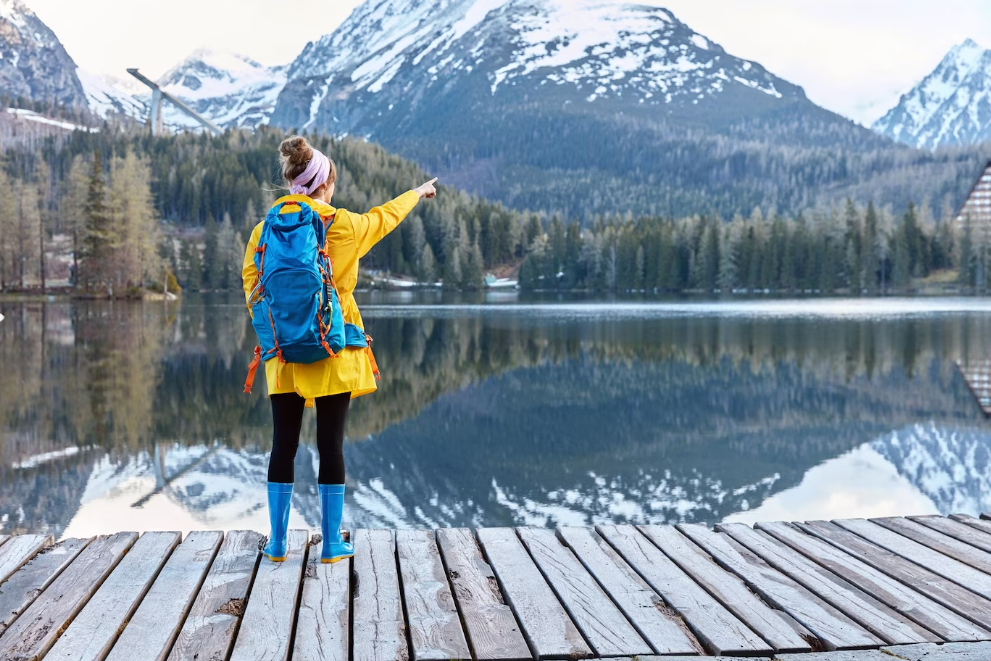 You've been itching for an escape from the daily grind and dreary weather. Why not head to the little lakeside town of Osoyoos in British Columbia's Okanagan Valley? Nestled between rolling hills and vineyards, Osoyoos enjoys mild winters thanks to the warm lake effect. There are plenty of cozy yet thrilling activities to keep you entertained on a winter getaway. 

From hitting the slopes at the local ski resort to unwinding at a luxury spa, Osoyoos has something for everyone. Here are 7 of the top things to do in Osoyoos this winter to add to your itinerary for the perfect winter escape to Osoyoos.
Hit the Slopes for Winter Sports Fun in Osoyoos

If snow-filled adventures are calling your name, Osoyoos has you covered. The Mount Baldy Ski Area offers over 200 acres of skiable terrain with runs for all abilities. Whether you're into downhill skiing, snowboarding, tubing or cross-country skiing, Baldy's got it.

The kids will love the bunny hill and terrain park with jumps and rails for snowboarding tricks. For a fun family activity, go tubing down the dedicated tubing hill. If you prefer a lower-key experience, the cross-country ski and snowshoe trails provide peaceful paths through snow-draped forests.

When you've worked up an appetite shredding the powder, the ski area's cafeteria dishes up hearty fare to fuel you for an afternoon of runs down the slopes. Or head into Osoyoos where many hotels, motels and resorts offer accommodation packages that bundle your room rate with discounted lift tickets for Mount Baldy.

For skiers and boarders of all skill levels, the variety of runs and activities at Mount Baldy Ski Area make it a premier winter playground in the Okanagan. Whether racing down black diamond runs or gliding along cross-country tracks, a day on the slopes in Osoyoos is guaranteed to thrill. The stunning snow-capped vistas alone are worth the trip. Ready to hit the slopes? Osoyoos' winter wonderland awaits!
Also Read: 6 Ways To Experience Arts & Culture
Don't Miss These Top 7 Things to Do in Osoyoos This Winter
There's no shortage of things to do in Osoyoos, even in the winter! From skiing to spas, here are 7 things to do in winter season:
1. Hit the slopes at Mount Baldy
Mount Baldy is Osoyoos' local ski hill, with over 200 acres of skiable terrain and 32 runs for all skill levels. It's open from December through March, so you'll have plenty of time to work on your skills or try out snowboarding.
2. Relax in a desert oasis
With hot, dry summers and cold winters, a spa day is perfect any time of year in Osoyoos. Check out Best Western Plus for pools, hot tubs, massages and more. There's no better way to warm up and unwind.
3. Stargaze under clear night skies
The dry, clear air makes Osoyoos an ideal spot for stargazing. On a moonless night, you can see thousands of stars, constellations and even meteor showers. Bring a telescope or binoculars and find a secluded area away from city lights for the best views.
4. Go bird watching at Osoyoos Desert Center
The Osoyoos Desert Center is open year-round and offers great opportunities for bird-watching, especially in the winter. You may spot birds of prey, songbirds, waterfowl and rare species that migrate through or overwinter in the area. The center also has interpretive trails to explore the native plants and animals.
5. Check out the local wineries
The Okanagan Valley is known for its world-class wineries, many of which are open for tours and tastings even in winter. Spend a day visiting some of the 20+ wineries around Osoyoos like Burrowing Owl, Nk'Mip Cellars, and Moon Curser Vineyards. Most have seasonal winter hours, so check ahead.
6. Go fat biking on snowy trails
Fat biking on snow is a fun winter activity for all skill levels. Rent a fat bike in Osoyoos and hit the trails at Mount Baldy, Haynes Point Provincial Park or the Kettle Valley Rail Trail. The oversized tires provide stability and traction on snow and ice.
7. Take in the view from Anarchist Summit
For panoramic views of Osoyoos Lake and the surrounding mountains, hike the 1.5 km trail up the Anarchist Summit. The summit is 1100m high and offers stunning vistas in every direction. The trail may be snow-covered in winter so wear proper footwear--the view from the top is well worth
Also Read: Your Ultimate Guide to Osoyoos Hotels with Pools
Relax in One of Osoyoos Hotels With Pools
If the winter chill has you longing for warmer days, head to Osoyoos where there are plenty of indoor activities to keep you cozy until spring.

After a day of winter adventures, unwind at one of the many Osoyoos hotels with pools, hot tubs and spas. The Best Western Plus offers pools and hot tubs open year-round so you can go for a swim no matter the weather outside. There's nothing quite like soaking in the hot tub as the snow falls around you!

You could also pamper yourself with spa, a full-service spa located within the Best Western Plus. They offer massages, facials, manicures and more. Whether you want to simply relax in the pool, enjoy a massage or get your heart pumping in the gym, Osoyoos hotels with pools have everything you need for the perfect winter escape. 

Spend your days cozying up by the fireplace, swimming in the pool and dining at one of the onsite restaurants. When you've had enough of the cold, Osoyoos hotels with pools are the ideal place to warm up this winter.
Conclusion
So there you have it, 7 things to do in Osoyoos this winter. Whether you want to hit the slopes, sip delicious wine, soak in scenic hot springs, or simply cozy up for a perfect winter's nap, this little desert oasis town has got you covered. The short days and chilly nights only add to the charm. 

Bundle up, grab your loved ones, and make the most of all Osoyoos has to offer in its quiet winter wonderland season. The summer crowds may be long gone, but the good times are just getting started. Have an amazing winter getaway and enjoy all the simple pleasures this special place provides. The memories you make here will warm your heart for seasons to come!
Frequently Asked Questions
1. What are the top 7 things to do in Osoyoos this winter?
The top 7 things to do in Osoyoos this winter include skiing at Mount Baldy, ice skating at the Osoyoos Sun Bowl Arena, wine tasting at local wineries, exploring the Osoyoos Desert Centre, enjoying hot springs at Spirit Ridge Resort, snowshoeing in the surrounding hills, and savouring seasonal dishes at Osoyoos restaurants.
2. Are there any Osoyoos hotels with pools open during the winter season?
Yes, some Osoyoos hotels with pools, like Best Western Plus, keep their pools open during the winter, providing a great way to relax and stay active during your stay.
3. Where can I find Osoyoos accommodation for the winter season?
You can find Osoyoos accommodation for the winter season at various hotels, resorts, and vacation rentals. Popular options include Best Western Plus, Coast Osoyoos Beach Hotel, Super 8 by Wyndham, and various vacation homes and condos available for rent.

4. What is the Osoyoos Desert Centre, and why is it a recommended winter activity?
The Osoyoos Desert Centre is an educational facility and nature reserve that offers guided tours during the winter. It's a recommended activity because it allows you to explore the unique desert environment and learn about its flora and fauna, even in the colder months.
5. Can I go wine tasting in Osoyoos during the winter?
Yes, many wineries in Osoyoos remain open throughout the winter season, offering wine-tasting experiences. It's a great way to enjoy local wines and take in the beautiful winter scenery of the region.