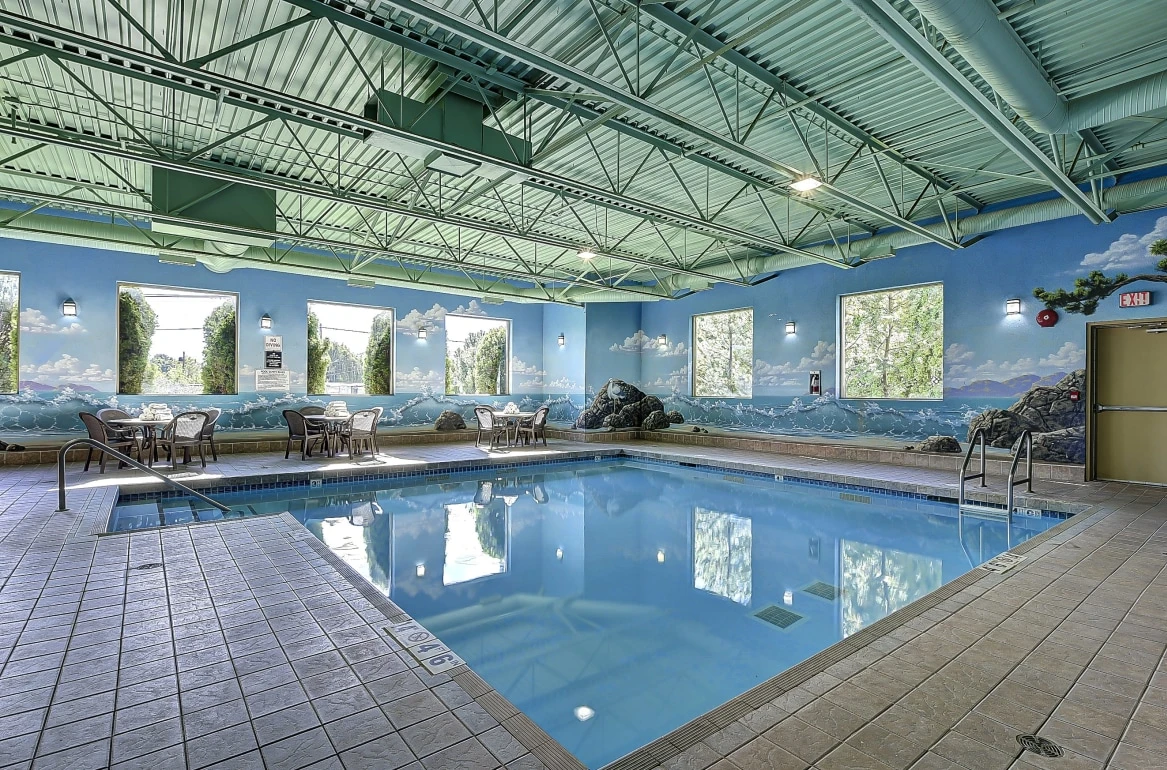 Put on your sunglasses and sunscreen, because it's officially summer and the best time of the year, has begun. Osoyoos is in British Columbia, Canada. It has lots of wonderful things to discover and experience, so it's definitely worth checking out. Osoyoos is a top travel spot in British Columbia. It has amazing wineries, lots of outdoor activities, and a special mix of Indigenous history. 

It's a really popular place in the Okanagan desert with amazing views like Anarchist Mountain and Spotted Lake. The scenery is so incredible that people talk about it like it's legendary. When you make your travel plans for 2023, here is your ultimate guide to Osoyoos hotels with pools.

So get ready to see lots of stunning scenery, have exciting outdoor experiences, and end your day by relaxing in some of the best hotels in Osoyoos British Columbia. But first, let us learn a bit about Osoyoos!
About Osoyoos
Osoyoos is a little town by the beach that is located on the border between the United States and Canada. Everyone knows that it's the hottest place in the country and lots of people like to go there for vacation. It's a town on a narrow strip of land between two parts of Osoyoos Lake - the north and south halves. 

The village is in a dry area called South Okanagan in British Columbia. This place has plenty of lakes, sun, and warm weather. The reason why many tourists come from all over the world is because of the mild temperatures. They want to enjoy the unique atmosphere and take a dip in Osoyoos Lake, which is the warmest lake in Canada.  

The region has outstanding circumstances for the production of fruits, vegetables, and world-class wines in addition to its unending beauty and near-perfect weather. Tourists can unwind after a day of sightseeing by taking a wine-tasting tour and lounging on the beach.
Best Hotels in Osoyoos British Columbia
If you visit in the fall, you will have many choices for hotels in Osoyoos British Columbia. There are hotels in Osoyoos British Columbia by the lake, cosy bed and breakfasts, and campgrounds with all the amenities. Right now, it's easier to find what you need and the prices are more affordable too!
1. Best Western Plus Osoyoos Hotel & Suites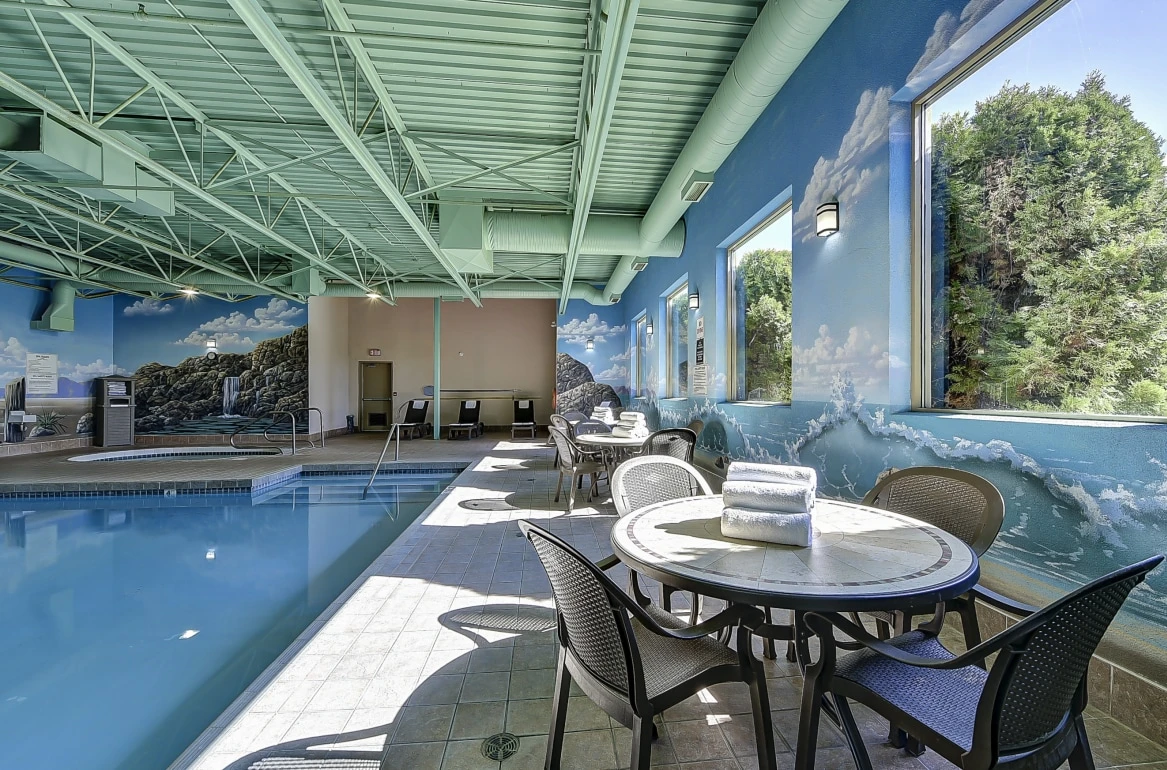 Rattlesnake Canyon and Osoyoos Lake can both be reached on foot in only 5 minutes when you stay at the Best Western Plus Osoyoos Hotel & Suites in Osoyoos. The Pioneer Walkway is 0.8 miles (1.2 kilometres) and Burrowing Owl Estate Winery is 8.6 miles (13.8 kilometres) away from this family-friendly motel.

Make sure to take advantage of the on-site recreation features, which include an indoor pool, a spa, and a fitness centre. In addition, this hotel offers free wireless Internet access, a fireplace in the lobby, and help with booking tours and tickets. Take advantage of the hotel's (limited-hours) room service. There is a free, hearty breakfast offered.

Featured amenities:

• Pet-friendly
• Breakfast included
• Pool
• Hot tub
• Parking included
• Free WiFi
• Room service
• Air conditioning
• Housekeeping
• Laundry
• Gym
• Business services
• 24/7 front desk
Also Read: Guide to Travel Osoyoos 
2. Coast Osoyoos Beach Hotel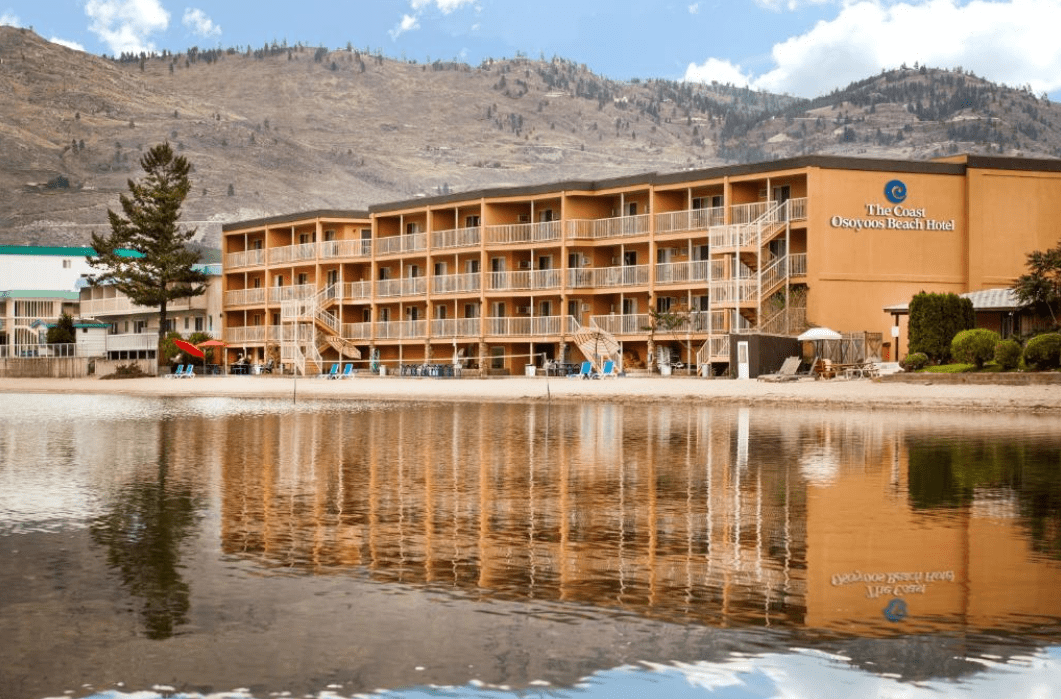 This hotel in British Columbia is 800 meters from the Rattlesnake Canyon amusement park and has a private beach on Osoyoos Lake. There's free WiFi and a refrigerator in the classic rooms. A waterslide is part of the Coast Osoyoos Beach Hotel's indoor pool area. The hotel also has on-site laundry facilities for added convenience.  All of the rooms include luxurious coffee makers.

Each room has a work desk and air conditioning. The rooms feature wooden furnishings and carpeted floors. The Beach Coast Osoyoos Hotel is located 1.9 miles from Osoyoos Golf & Country Club. Moon Curser Vineyards is the distance of 1.7 kilometers.

Featured amenities: 

• Indoor swimming pool
• Free parking
• Free WiFi
• Non-smoking rooms
• Fitness centre
• Family rooms
• Beachfront
• Tea/coffee maker in all rooms
• Private beach area
• Breakfast
Also Read: Top 5 Ways To Experience Nature In Osoyoos
3. Super 8 by Wyndham Osoyoos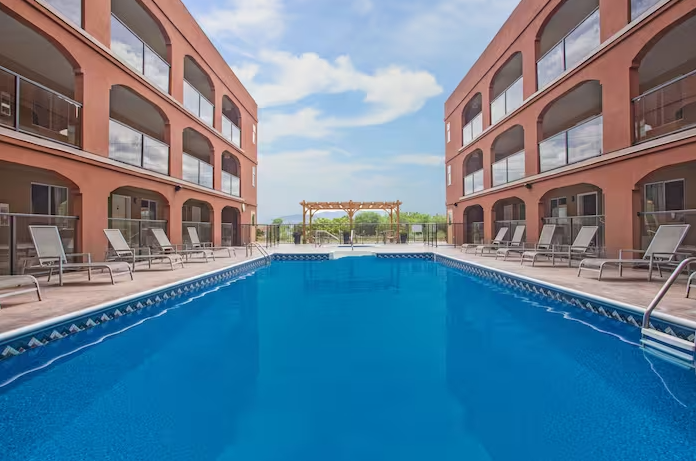 In one of the 42 guestrooms with refrigerators and microwaves, you can make yourself at home. You may stay connected with a free wireless internet connection, and there is digital content available for your amusement. Hair dryers and shower/tub combinations are found in bathrooms. Coffee/tea makers are among the conveniences, and daily housekeeping is offered.

The British Columbia Visitor Centre at Osoyoos and Osoyoos Art Gallery can be reached on foot in 5 minutes when you stay at Super 8 by Wyndham Osoyoos in Osoyoos. Burrowing Owl Estate Winery is 6.8 miles (11 kilometres) away from this motel, while Osoyoos and District Museum and Archives are 0.7 miles (1.2 kilometres) away.

Featured amenities:

• Free Parking
• Free High-Speed Internet (WiFi)
• Pool
• Free breakfast
• BBQ facilities
• Non-smoking hotel
• Laundry service
• Self-serve laundry
• Parking
• Wifi
• Hot tub
• Pool/beach towels
• Outdoor pool
• Heated pool
• Vending machine
• Outdoor furniture
• Picnic area
• Sun terrace
Where to Eat in Osoyoos?
From five-star restaurants to street cuisine and fruit vendors, there's something for every appetite. Here are just a few of the many fantastic eateries that patrons of this summer's festival might want to consider:
1. The Jojo's Cafe
Jojo's on Main has everything you need to satisfy your coffee, breakfast food, sandwich, soup, salad, and dessert desires. The family who runs this friendly establishment is committed to giving back to the community. Even though there is currently only takeout (order at the counter and pick up at a designated area), both inside and outdoor seating are still available.
2. The Lake Village Bread Shop
The Lake Village Bakery is another locally owned and operated establishment that serves the neighbourhood and beyond with its typical artisan sourdough. Despite the glowing recommendations, our schedules simply couldn't accommodate a stop there this time around. After our next trip to Osoyoos, you can expect an update!
3. The 15 Park Bistro
In the heart of downtown Osoyoos, you'll find 15 Park Bistro, a restaurant that manages to be both upscale and relaxed. You can dine in the airy, contemporary dining room or out on the heated patio.

As you might expect, the list of wines available is broad and primarily regional. We received compliments from the house sommelier on our selections, as well as an opportunity to taste a special edition rosé.
4. The Bear, the Fish, the Root & The Berry
The Bear, the Fish, the Root & the Berry is the place to go in Osoyoos for a one-of-a-kind dining experience. With creative cuisine, novel flavour combinations, impeccable service, and beautiful plating, this restaurant is worth the trip. The terrace and dining area both provide breathtaking views.
5. Winery restaurants

When in Osoyoos, you must stop by one of the local vineyards for lunch or two. Restaurants offering full service, including lunch and dinner, can be found at several wineries. While some only offer cheese and crackers, others provide whole meals.

Just with lodging, restaurants in popular tourist areas can get full quickly in the summer, so it's best to make reservations well in advance of your vacation.
Popular Attractions in Osoyoos
1. Veterans Memorial
The Osoyoos Veterans Memorial was made to remember the people who fought for Canada in the military. The garden has special types of cacti that can survive in cold weather. One of them is the big cholla cactus. There are also some types of yucca that can only grow in this garden and nowhere else in Canada.
2. Osoyoos Lake
The beautiful Osoyoos Lake is the primary reason so many people visit the area. In the peak months of July and August, the lake's water temperature can reach between 26 and 33 degrees Celsius, making it Canada's warmest lake. 
3. Pioneer Walkway
Visitors can enjoy a scenic lakefront promenade along the Pioneer Walkway, which is surrounded by colourful gardens filled with a variety of both native and exotic species. There are pergola and gazebo shelters there, too, with seating and panoramas of the water.
4. Anarchist Mountain Lookout
The spectacular views from the Anarchist Mountain Lookout over the nearby village and lake make it a popular destination. It's accessible from a stretch of the Crowsnest Highway and offers breathtaking views of both Canada and the United States from an elevation of 910 to 4045 feet.
5. Osoyoos Beach Walk
The Osoyoos Beach Walk is an excellent introduction to the village and takes you from the Pioneer Walkway past the luxurious Watermark Beach Resort Hotel to Gyro Beach. 

6. Sẁiẁs Provincial Park (Haynes Point)
Sẁiẁs Provincial Park is a beautiful piece of land that stretches almost all the way across Osoyoos Lake. The park has beautiful beaches that anyone can use during the day. The park has 41 campsites that can be reached by vehicles. Out of these, 7 campsites are designed for large groups.
Also Read: What's New in Osoyoos
What to Bring to Osoyoos?
Here's a simple list of things you need for your summer trip to Osoyoos:

Sunscreen: If you plan to spend any time outside during the summer, wear sunscreen because our desert climate is usually very hot and sunny during that time.

Bathing suit: When it gets hot outside, summer is the perfect time to go to the beach and soak up the sun! Osoyoos Lake has the warmest water in Canada. You can swim in it until September and even later!

A cooler: This can come in handy not just for carrying bottles of wine you wish to take home, but also for packing some on-the-go snacks or a picnic lunch for your road trip. This will make sure the temperature is right for storing your wine so it doesn't go bad when you're travelling.

Your dog: Hey, did you know that Osoyoos has lots of places where you can bring your dog? They have accommodations, activities, and wineries that are all dog-friendly. That means you can have a fun trip to Osoyoos with your pet!

Here's a helpful tip: 

Make sure to save some extra space for the things you find during your trip. Whether it's shopping on Main Street or visiting wineries, you'll likely have more than just memories to take back home with you!
Conclusion
Planning the best-ever trip is a breeze with our ultimate guide to Osoyoos hotels with pools! There's a ton of amazing stuff to do when camping in Osoyoos. We've even made special guides for Osoyoos restaurants and Osoyoos wineries, so don't miss out on those to maximise your Osoyoos adventure!

Now, make your trip even better by staying at the Best Western PLUS Osoyoos Hotel & Suites. You'll find all the fantastic amenities you expect from a Best Western PLUS, just minutes away from the finest attractions in Osoyoos and the Southern Okanagan Valley.

Ready to have a blast in Osoyoos? Book your stay at Best Western PLUS Osoyoos Hotel & Suites today! Experience comfort and convenience like never before while exploring the beauty of Osoyoos. Your perfect Osoyoos getaway starts here.
FAQs



1. What is Osoyoos, and why is a trip there worthwhile?
Osoyoos is a pretty town in British Columbia, Canada. It's famous for being the warmest place in the country. This place is really popular for travelling because it has great wineries, lots of things to do outside, and a rich Indigenous history. Osoyoos has really beautiful views and a really cool vibe, so you should definitely go there.
2. In Osoyoos, what kind of climate is there?
Osoyoos is really hot and dry in the summer, but the winters are pretty mild. It's a place called the Okanagan Desert, but it's not completely dry like a desert because it gets a little more rain. There are special plants called cacti that grow here, and this place is well-known for having the warmest lake in Canada, called Osoyoos Lake.
3. What kinds of wildlife are there in Osoyoos?
Osoyoos has a special environment where rare animals like tiger salamanders, great basin spadefoot toads, western rattlesnakes, bighorn sheep, and mountain goats live. It's a great place for people who love nature.
4. Where can I find hotels in Osoyoos British Columbia, and when is the best time to book my accommodation?
You can choose from different places to stay, like hotels, motels, bed and breakfasts, and campgrounds. If you want to go in the summer, make sure to book early because Osoyoos gets really busy during that time and all the places to stay might be taken. You should think about staying at Best Western PLUS Osoyoos Hotel & Suites. It's a really nice and convenient place to stay.